Snehaloka......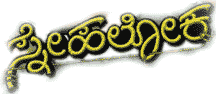 Producer B.Jayashree Devi seems to have mastered the art of making multi-starrers in the Kannada film Industry. After the stupendous success of multi starrer "Habba", Jayashree Devi has once again pumped in funds to make another multi star cast film this time will some well known and some up coming heroes and heroine. The final product "Sneha Lokha" is all set to release on 24th December throughout the state. The film is directed by Mahendar, who had earlier directed "Suvvi Suvvalaali" for the same producer. For Mahendar, the stakes are high as the film "Courava" was a roaring hit.
| | |
| --- | --- |
| Mahendar has base "Sneha Lokha" on Tamil film "Kannedure Thonrinal", which had Prashanth as the hero. In this film, he is backed up by the same crew that remains a common factor in most of his films. Hamsalekha is the Music Director, B.A.Madhu has written the dialogues and Soundara Rajan is the editor. | |
The film has Ramesh and Ramkumar playing lead roles with Anu Prabhakar playing female lead opposite to Ram Kumar. Vinod Raj, Shashi Kumar and Abhishek are the other heroes who have worked in this film. Sharan, the upcoming comedian of Kannada films has meaty role in the film.

About the film, the producer says that she had immensely liked the story and had discussed the project with Mahendar. J.K.Bharavi, who claims himself as the adopted son of the Producer B.Jayashree Devi says confidently that the threatment in the Kannada film is better than its original, and the film also stands out for the performance of all the lead artists. Two of the Songs have been shot in Ootacamund.

Mahendar is well known for directing Rural based subjects with which he has repeated success very often. "But this time I have taken a city subject and I am happy that the film has turned out to be good" says Mahendar.