Unitech Group
Claim this page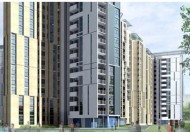 Established in 1972, Unitech today is India's leading real estate company with projects across the country. Unitech is known for the quality of its products and is the first real estate developer to have been certified ISO 9001:2000 certificate in North India.
Unitech has the most diversified product mix comprising Residential, Commercial/Information Technology (IT) Parks, Retail, Hotel, Amusement Parks and Special Economic Zones (SEZ).
Unitech has long partnered with Internationally acclaimed architects and design consultants including SOM(USA), BDP(UK), Maunsell AECOM(HK), MEA Systra(France), Callison Inc.(USA), FORREC(Canada), SWA and HOK(USA) for various projects
Vision:
To be India's leading Real Estate company with a Pan-India Footprint, and be the company of first choice amongst our customers to address their needs across all realty verticals.
Mission:
To satisfy every customer's need for a better experience through quality construction and employee contentment. Unitech has a well-managed architectural and engineering team that has closely partnered and worked with internationally acclaimed architects and many others, to achieve both aesthetic and efficient designs. We are a customer oriented company and we believe in putting in our best foot forward in our journey to the pinnacle.
Unitech Group
' also may find interest in followings . . .

Real estate markets all over India have been completely obtaining a working because this past year and then house product sales in its total possess struggled. Over the...
The Puravankara Group was established in 1975, in response to the growing need for quality housing and commercial space in the metropolitan cities of India. Since then, the Group...

Discover spacious homes at ideal locations. Best of facilities, ample greenery, state of the art amenities...all this and much more at the residences we build keeping you and your...

NCC is a vision seen in exemplary clarity by Dr. AVS Raju, architect, planner and builder close to three decades ago. Years that have seen the Company creating history, time and...

TATA Housing, one of India's leading Real Estate Developers is a closely held Public Limited Company and a subsidiary of TATA Sons Limited. TATA Sons Limited holds 99.78% of...

Buying apartments is not easy, especially in Bangalore believe me or not, here we suggest dreamz gk infra to go with it with best average prices. Unique apartments for sale in...

Vaswani Group is a 25 year old ISO 9001:2000 certified and professionally managed company which was established in the year 1982 in Bombay and Bangalore. The Corporate Mission of...
Category:
Submit your company info here.