Tata Housing
Claim this page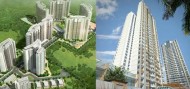 TATA Housing, one of India's leading Real Estate Developers is a closely held Public Limited Company and a subsidiary of TATA Sons Limited. TATA Sons Limited holds 99.78% of Equity Share Capital of the Company. Our primary business is the development of properties in Residential, Commercial and Retail Sectors. Our operations span across various aspects of Real Estate Development, such as Land Identification and Acquisition, Project Planning, Designing, Marketing and Execution and Property Management.
The Company's Mission as a Real Estate Development Company is "To Delight our Customers by providing Quality Life Spaces through Continuous Innovation". Tata Housing has pioneered the concept of property development by Corporates in India. We cater to the needs of home buyers across all income segments from Value Homes to Luxury Housing. Tata Housing is one of the key players in the Indian real estate industry, with an approach that is customer-focused and customer-centered. Every residential or commercial premise is created basis a thorough understanding of the stated and unstated consumer needs, which is obtained through a concentrated and focused consumer and market research.
Tata Housing
' also may find interest in followings . . .

SLV Housing Development Corporation with 19 years of triumphs and successes SLV Housing Development Corporation has come a long way in property development and has helped...
Tata Elxsi Limited (TEL) is a technology company of the Tata Group in India. Tata Elxsi delivers outsourced product design and R&D services and solutions to customers...

Real estate markets all over India have been completely obtaining a working because this past year and then house product sales in its total possess struggled. Over the...
VGP Housing, the pioneers and trend setters in land and housing for over 25 years with thousands of acres of developed land under its fold with a large number of satisfied...

Discover spacious homes at ideal locations. Best of facilities, ample greenery, state of the art amenities...all this and much more at the residences we build keeping you and your...
EduMark is a vocational education and training (VET) organisation that specializes in skill and knowledge development of youth for employment in real estate and allied sectors....
Vakil Housing Development Corporation has been instrumental in creating landmark residential projects in Bangalore using high quality construction material, detailed engineering...
Category:
Submit your company info here.