Vaswani Group
Claim this page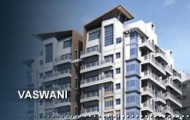 Vaswani Group is a 25 year old ISO 9001:2000 certified and professionally managed company which was established in the year 1982 in Bombay and Bangalore.
The Corporate Mission of the Vaswani Group is to excel as a global-standard property developer and builder. More than mere brick and mortar, our goal is to shape personal and corporate dreams by sculpting homes, offices, technology parks, retail malls and hospitality projects that live up to our customer's dreams.
A mix of top-notch professionalism coupled with meticulous attention to detail, right from concept to completion, sets Vaswani Group in a class above the rest. Over the years, Vaswani Group has built up a portfolio of diverse projects across the entire residential and commercial spectrum - right from value-for-money apartments to ultra-luxury, city center lifestyle apartments to Retail, Hotel and Campus type developments.
Our Services
Vaswani group provides you:
Maximization of investment
Market-leading management techniques
Comprehensive preventive Maintenance
Quality tenant care
Cost efficient management
Trained professional staff
Cost-saving consultancy during design and construction
Total furnishing support, interior design and execution of soft furnishing
Leasing of property to Multinational companies.
Vaswani Group
' also may find interest in followings . . .

Established in 1972, Unitech today is India's leading real estate company with projects across the country. Unitech is known for the quality of its products and is the first real...
Samruddhi Group is an organization founded by highly qualified professionals with global experience. Its founder-directors have 45+- man years of rich experience in international...

Prestige constructions have shaped the Bangalore skyline both in terms of residential estates and commercial properties in Bangalore. Prestige stands as a giant among Bangalore...

Timex Group designs, manufactures and markets innovative timepieces and jewelry globally. Timex, founded in 1854, has expanded to become Timex Group, a privately-held company,...
Continent Group is local business situated in Bangalore which provides services like architectural Services, Interior Design, 3d floor plan, 3d Visualization, Structural Design...

"Sankalp Constructions Pvt. Ltd" – a brand name in the city of Mysore, has shaped several high rise residential properties in Mysore. Sankalp stands as a giant amongst builders in...
Global management consulting, technology services and outsourcing company BLLUETEK GROUP does Apps Development, Website Designing, SEO Services, Training & Staffing for...
Category:
Submit your company info here.