Timex Group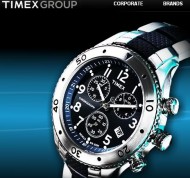 Timex Group designs, manufactures and markets innovative timepieces and jewelry globally. Timex, founded in 1854, has expanded to become Timex Group, a privately-held company, with several operating units and over 5,000 employees worldwide.
One of the largest watch makers in the world, Timex Group companies include the Timex Business Unit (Timex, Timex Ironman, Opex, TX, Nautica, Marc Ecko); Timex Group Luxury Watches (Valentino, Salvatore Ferragamo); Sequel (Guess, Gc) and Vertime (Versace, Versus).
Timex Group built its reputation as the pioneer in timekeeping by harnessing the power and possibility of time. From the first clock and wristwatch we produced through data integration - from classic, time-honored designs through exclusive, luxury collector's pieces - Timex Group companies continue to deliver unparalleled quality to highly diverse and global customers.
Milan to Hong Kong, design sensibility and creativity inspire multiple lifestyle brands. From the hallmark everyday watches on which we built our reputation, to exclusive, high-end offerings, we are equipped to meet the needs of our brand partners.
Timex Group India has one of the most powerful portfolios of brands in the watch industry. With technological innovation and cutting-edge design, we recognize the tremendous opportunity to leverage the reach and appeal of each brand's individual identity, personality and customer base. With our global organization and breadth of expertise, we bring our partners from concept through design, manufacturing to distribution, to meet and exceed the brands' criteria for success.
Timex Group
' also may find interest in followings . . .
Business and Services: Cotton Fabrics Home Furnishing Garments Cotton Fabrics
Business Manufacturing and Exporting the Ready made Garments.
Business : Manufacturers Of Cotton, Synthetic Fabrics,sarees.
Business: Manufacturers Of Rubber Moulded Components.
Ozone Bangalore Pvt. Ltd. is a Importers Of Adventurous Equipments and Camping Goods, Canvas Bags.
Manufacturer of precision turned components in brass metals.
Bhansali Brothers & Co is a premier business of the C.L Bhansali Group specializing in the manufacturing and fabricating of Stainless Steel Goods required both for...
Category:
Submit your company info here.