Directorate of Pre-University Education Department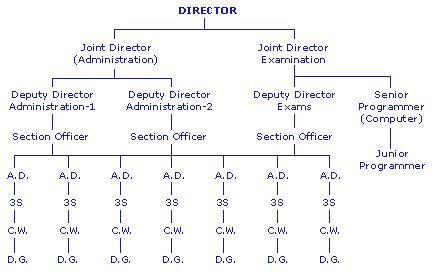 A.D. - Assistant Director,
3S - 3 Superintendents,
C.W. - Case Workers,
D.G. - D. Group
The Directorate office is assisted by the Deputy Director's offices in the District Head Quarters.
Staff Pattern in District Deputy Director's Office
Deputy Director
Superintendent
FDC
SDC
Typist
Driver
D. group
Pre-University Colleges come under the Administrative control of the Director of Pre-University Education. It also looks after the academic aspects of Pre- University classes in Degree Colleges.