K.P.N Travels India Limited
Claim this page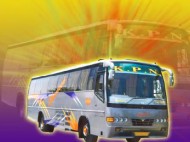 K.P.N Travels India Limited is plying buses in four states namely Tamil Nadu, Pondy, Kerala, and Karnataka. Lakhs of customer prefer KPN Travels buses through out the year for going to various places in South India. 38 years in public transport is indeed a great accomplishment by our company. Headquarter at Salem, KPN Travels India Limited, is in business since last four decades. From a humble beginning, it has grown to become one of the leading bus operators with an expanding fleet of buses in the country. Offering excellent service with its well-maintained coaches and courteous staff, KPN travels strength lies in its enlightened management under Dr.K.P.Natarajan its Managing Director.
Today the luxury buses of KPN are familiar sights on almost all the vast highways of the South. The runaway success of the company and the popularity of its bus service is traceable to its quality and timely service to customers, excellent labour relations and the steadfast loyalty of the workers to the management.
K.P.N Travels India Limited
' also may find interest in followings . . .

Valsala Travels Private Limited, which is incorporated on 18.6.2001 as `Private Limited Company ' was started initially as a proprietary organization around 16 years back...
Bharathi Travels & Holidays was founded in the year 1936 by Mr. A.C. Mudaliyandan Mudliar from Sholingur in Tamil Nadu, starting our operations with just one bus. Currently...
There is a huge concern towards increasing number of Volvo buses towards Marathahalli - ITPL area and considerable reduction of Marco Polo and other BMTC low fare buses. The cost...

S.R.S travels, one of the most prominent names in Bangalore's tours and travel industry. Over the years, it has taken the place of leading tour operator and employee transport...
Jagdish Ait Travels (P) Limited was established in Bangalore in 1997. It is a part of the Jagadish Group of Companies, which is owned and managed by its Managing Director, Mr....
Luxury Tours & Travels based in Bangalore, India. Our company is dedicated to serving clients worldwide by promoting India, especially Karnataka & South India as its...
SRKT Travels is a pioneer in the online bus reservation in India which utilizes the advantages of the internet to provide our clients with the best in bus transportation services...
Category:
Submit your company info here.