Jagdish Ait Travels (P) Limited
Claim this page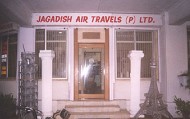 Jagdish Ait Travels (P) Limited was established in Bangalore in 1997. It is a part of the Jagadish Group of Companies, which is owned and managed by its Managing Director, Mr.Jagadish. The group has interests in various fields, which are as varied as Pharmaceuticals, Entertainment, Advertising, C & F and of course travel and Foreign Exchange.
Since inception our belief has been to provide TRAVEL RELATED SERVICES WITH A DIFFERENCE TO OUR CUSTOMERS where by the total benefit goes to the customers.
In the last five years Jagadish Air Travels (P) Ltd. Has grown to become an integral part of the travel trade. We are doing extremely well with most of the International Airlines like KLM, British Airways, Singapore Airlines, Malaysian Airlines, etc. and also with all the Domestic Airlines, i.e. Jet Airways, Indian Airlines and Air Sahara.
Mission:
To Provide Travel Related Services with a Difference to our customers whereby the total benefits along with an extremely professional and personalized service is provided to them.
Jagadish Air Travels are One Stop Shop for...
Automated International Ticketing
Passports
Automated Domestic Ticketing
Foreign Exchange (Authorized by RBI)
Insurance (Medical and Travel)
Air port facilitation
Round the Clock Service
Car Rentals
Worldwide Hotel Booking
Railway Booking
Nationwide service
Conferences
Travel Industry Updates
Jagdish Ait Travels (P) Limited
' also may find interest in followings . . .
Jagadish Tours is a Leading Outbound Tour Operator. Travel, a rapidly growing sector the world over, and India is the fast emerging hub for the same. The upswing in this sector...

Ascon Travels, part of the Dubai based ETA Ascon Group, one of the pre-eminent corporate entities in the Middle East. Since 1995, families and corporates in India and the Middle...

Established in 1994,The Travel People is a company that renders comprehensive services related to air travel within India and abroad. Our strategically located offices equipped...

Aditya Travel Lines is a dynamic organization of Business Travel Management. Started in 2005. India based Air Ticketing Agent, Aditya Travel Lines. Offers cheapest fares worldwide...

Acma Travel Tours Pvt Ltd Is one of the leading Travel Agency in Bangalore , India. Having an approval of IATA and recognized by RBI, ACMA is well know and easily accessible to...

Established in the year 1999 in Bangalore, India. Spaceline World Travel dedicates itself to providing Complete Travel Related services.. We offer weekend escapes to special...

Alpha Air Travels has been providing yeoman services to an exclusive band of travelers in India and overseas since 1987. In these two decades, this IATA organization has...
Category:
Submit your company info here.