Heady Dawn
Claim this page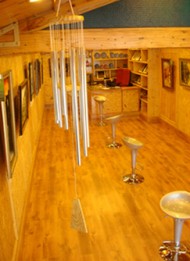 Heady dawn, an art gallery located in Jayanagar, offers an exclusive a for its continually interested customers. Its collection includes exotic Persian hand knotted pictorial carpets, sublime art pieces created by the truly gifted and more of such genius work of art.
Our commitment to art will also allow artists with magic in their fingers to find a place with us to showcase art that will be revered over time. We also promise to bring to you the cream of today's art talent who will be eventually taken under our wing, their uniqueness left to be appreciated by every one who has a chance to view their work and nurture their future.
Hours:
All days of the week 11.00 AM - 8.00 PM
Heady Dawn
' also may find interest in followings . . .

Dawn Consulting provides financial strategy and implementation support to early stage and established enterprises – we facilitate formation and transformation. Our mission is a...

Located in UB City, Bangalore's hotspot for luxury, art and fashion, Sublime Galleria is India's first Sky Gallery and a perfect setting for the city's art aficionados. As a space...

Inner Dawn provides professional and confidential counselling services in Bangalore for individuals, children, adolescents and couples at our centers. We also provide counselling...

The only authentic Persian Restaurant in Bangalore. Come and experience the warm hospitality and mouth watering dishes like the Kabab-e-Bakhtiyari, the immaculate tenderloin of...

Office work can be very stressful to city dwellers who have no time for outdoor exercise. Prevent burn out and injury. Here are exercises you can do five times each while standing...

Artindian.in is a comprehensive solution for both Artists and Art collectors. It empowers artists to connect with their Art Collectors and vice versa for ever. Art Collectors are...

People who diet often can lower their metabolisms enough to decrease their caloric needs. This can be done in two ways: First, a diet of less than 1000-1200 calories can actually...
Category:
Submit your company info here.