The Nathaniel School of Music
Claim this page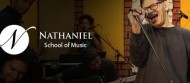 Because NSM-trained is a thing now.
Sign up for NSM's celebrated Music Method course, and find yourself playing at a concert by the end of it. This flexible, tried and tested programme allows the student to choose to learn the piano, guitar, drums, bass or trumpet of any level and even set up her own schedule. The course spans 4 months, and combines lessons in technique end theory with modules such as music composition, ear training and music production. Jason Zachariah of the NSM advises all potential students to figure out what they want from a course before they sign up, and then guides them accordingly based on whether they wish to pursue music as a profession or hobby. The highlight of the programme is the public performance that each student gives at the end of the course to get her final grade and certification.
As you visit '
The Nathaniel School of Music
' also may find interest in followings . . .

Thomsun Music House offers Music Education with a Difference Admission Open Now in Indiranagar Bangalore Music Education for Beginners YAMAHA - Music Mates Syllabus Classes in...

The music institute established in 1987 teaches all kinds of music forms, instruments and other art forms like dance, theater etc. It inculcates discipline, confidence and sense...
Music is an intellectual aspect that can drive our brains to forms of intelligence like response of the individual. children have a better response by the influence of music,...

Complete range of musical Instruments and Accessories Sound & Light solutions and Rentals Music Method Books, Tip books and Examination Books available Music Classes...

For those who take their music seriously. Eastern Fare caters to serious-at-heart newbies with courses in acoustic and classical guitar, piano and keyboard. With several branches...
SITAR An Indian styled guitar, the sitar is a stringed instrument that emits delicate riffs. Evolving over time, the sitar was historically used by the Persians who made their way...

SAMA is the brain child of Dr. Raghuram, in memory of his mother M.R. Vijayalakshmi. The organization aims to spread & encourage classical music and other arts among small...
Category:
Submit your company info here.