Sri Academy of Music and Arts Trust (SAMA)
Claim this page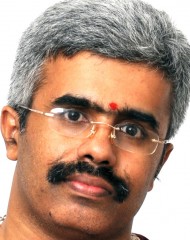 SAMA is the brain child of Dr. Raghuram, in memory of his mother M.R. Vijayalakshmi. The organization aims to spread & encourage classical music and other arts among small children. The organization also intend to bring AUDIO, VIDEO and other publications in reference to Art & Classical Music to help building the awareness among the youths.
The academy has already released a CD of Violin Solo recital by Dr. R. Raghuram during which all the participants were given prizes, CD, books. Speciality of the event was about the musical instruments given as the prizes. Academy also offers scholarships for deserving and promising children in the form of free Violin and Vocal classes, during every Sunday between 3:00pm-4:00pm.
Sri Academy of Music and Arts Trust (SAMA)
' also may find interest in followings . . .
Music is an intellectual aspect that can drive our brains to forms of intelligence like response of the individual. children have a better response by the influence of music,...
AUDEN INSTITUTE OF EDUCATION, HOSKEREHALLI,BSK III STAGE, BANGALURU-85& SRI ACADEMY OF MUSIC AND ARTS PRESENTS SAMA MUSIC, ART, CULTURE: CONTEST 2013 DATE :-21ST JULY, 2013,...

The music institute established in 1987 teaches all kinds of music forms, instruments and other art forms like dance, theater etc. It inculcates discipline, confidence and sense...
SITAR An Indian styled guitar, the sitar is a stringed instrument that emits delicate riffs. Evolving over time, the sitar was historically used by the Persians who made their way...

Thomsun Music House offers Music Education with a Difference Admission Open Now in Indiranagar Bangalore Music Education for Beginners YAMAHA - Music Mates Syllabus Classes in...

Complete range of musical Instruments and Accessories Sound & Light solutions and Rentals Music Method Books, Tip books and Examination Books available Music Classes...

Venue of the contest :- auden institute of education, #6, banashankari-3rd stage, hoskerehalli, bangalore-85 Date:- 19th july, please do visit samauniversal.org. Attractive prizes...
Category:
Submit your company info here.