Bangalore School of Music (BSM)
Claim this page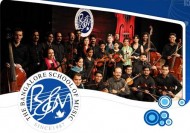 The music institute established in 1987 teaches all kinds of music forms, instruments and other art forms like dance, theater etc. It inculcates discipline, confidence and sense of commitment in people and aims at cultural unity through music.
The BSM has a unique 3600 approach to music development, an integrated circle of music comprising of Music Education, Music Promotion via concerts, festivals, seminars etc., Music Outreach for the underprivileged, Cross Cultural Dialogues & Festivals and Audience Development, all orchestrated in harmony to bring the wonderful powers of music into the everyday lives of our communities.
The BSM attracts an enthusiastic group of students, spanning various age groups – from little children taking their first steps into music, to professionals who are keen to take their music to higher levels.
Teaching classical music, both eastern and western, our students train for the London Board & Progressive Music Examinations. A dedicated group of 30 teachers train over 500 young people each year. Musical training is given free to nearly 200 children from economically weaker sections.
Bangalore School of Music (BSM)
' also may find interest in followings . . .
Music is an intellectual aspect that can drive our brains to forms of intelligence like response of the individual. children have a better response by the influence of music,...

Thomsun Music House offers Music Education with a Difference Admission Open Now in Indiranagar Bangalore Music Education for Beginners YAMAHA - Music Mates Syllabus Classes in...

Because NSM-trained is a thing now. Sign up for NSM's celebrated Music Method course, and find yourself playing at a concert by the end of it. This flexible, tried and tested...

Complete range of musical Instruments and Accessories Sound & Light solutions and Rentals Music Method Books, Tip books and Examination Books available Music Classes...

SAMA is the brain child of Dr. Raghuram, in memory of his mother M.R. Vijayalakshmi. The organization aims to spread & encourage classical music and other arts among small...
SITAR An Indian styled guitar, the sitar is a stringed instrument that emits delicate riffs. Evolving over time, the sitar was historically used by the Persians who made their way...

For those who take their music seriously. Eastern Fare caters to serious-at-heart newbies with courses in acoustic and classical guitar, piano and keyboard. With several branches...
Category:
Submit your company info here.