Hyderabad House
Claim this page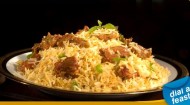 Hyderabad House (est. 1975) by late Mir Baber Ali was a pioneer in capturing the ethos, the smells, the sights and the sounds of this historical city. Steadily raising in popularity over the decades and ensconcing itself in the hearts, minds and palates of every food lover, Hyderabad House is now a landmark destination wherever it is present, both in India and abroad.
Catering to the myriad tastes of vegetarians and non vegetarians, Hyderabad House is now the first choice for take aways, corporate catering, private Catering, home deliveries and for those who love sitting sown for a feast fit for kings.
Our latest offering to the gourmet is Bowl O' China, an authentic Chinese eating-place with a purely oriental ambience.
Hyderabad House
' also may find interest in followings . . .

State Bank of Hyderabad was constituted as Hyderabad State Bank on 08.08.1941 under Hyderabad State Bank Act, 1941. The Bank started with the unique distinction of being the...

Prashanti, house of silk cottons, the boutique renowned for its hand woven Silk Cotton Sarees with its kind of rare and unique designs is an extra ordinary boutique for silk...

The foundation of Indiranagar was laid out in residential layouts made up of old bunglows of old Bangaloreans who always left room for a garden. And from there it grew in size and...

As the corporate culture is growing in India, a professional help called a house maid is a preferred relief to the families who find it difficult to manage their household...
Carpet House Exporters of Shawls, Carpets Rugs & Mats Leather Products, Manufacturers of Handicrafts.

Admission open Play Group Nursery LKG UKG 18 mon – 3yrs 3yrs – 4yrs 4yrs – 5 yrs 5 yrs – 6 yrs Daycare (Up to 7.30pm) Our Bright kid after school Day care Program in each...
Nearby, on Lavelle Road, is the Smoke House Deli (also in indiranagar) with a soothing outdoor section which is all the rage. What makes it lovely is the solid wrought-iron...
Category:
Submit your company info here.