Attakalari Centre for Movement Arts
Claim this page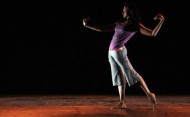 Attakalari Centre is a charitable organization which concentrates on contemporary dance, Kalarippayattu, yoga, ballet and other dance forms. The institute organises and produces different events related to the contemporary dance. It also plays a key role in bringing out digital arts.
A key objective of the Centre is to demystify the art form, making it accessible to all sections of society. Attakkalari collaborates with video and digital artistes, composers, musicians and choreographers from around the world and also functions as a resource centre for young and upcoming artistes from other parts of the world who are interested in Indian culture, aesthetics and movement idioms.
Attakkalari has facilitated the development of an enhanced and extensive programme that includes national and international Platforms for Exchange and Performance; Strategic movement and Digital Arts development; Research and documentation; new performance works by the Attakkalari Repertory; a Diploma in Movement Arts and Mixed Media; and Education and Outreach programmes. As an umbrella organization, Attakkalari provides dynamic leadership and makes strategic intervention to stimulate the growth of a vibrant contemporary performing arts scene in the country.
Attakkalari's mission is to spread the reach of contemporary performance arts and to make dance a viable career option for young people. We work to empower young artists by giving them the necessary tools and training that will enable them to create fresh physical expressions related to their experiences, memories and thoughts. The company's dance productions articulate human dilemmas and socially relevant ideas through a contemporary performance idiom. Through our outreach programmes we work with all communities, cutting across cultural and economic barriers, reinforcing our vision of a secular and globally pluralistic society.
Attakkalari has its own Repertory Dance Company, which performs works in India and internationally. The Repertory's productions are at the forefront of the contemporary Indian dance scene and often incorporate cutting-edge digital arts, imaginative lighting and innovative music. Attakkalari's highly successful, full length, multimedia dance productions, choreographed by its Artistic Director, Jayachandran Palazhy, have received much acclaim and have been performed at prestigious festivals all across the world.
Attakalari Centre for Movement Arts
' also may find interest in followings . . .
The Classics If you are serious about enrolling in body bootcamp, the classics are for you. Good research pays, as on Indian classical dancer makes a lifelong commitment to dance...

Every truly patriotic Indian is expected to bring at least five decent Bollywood moves to the dance floor. And with new Item numbers releasing every week, Bollywood classes...
This beautiful dance institute started by the late Protima Bedi, renowned classical dancer of national repute is cause driven. Besides admitting young talents from all over the...

An adage proved old fashioned by the Natya Institute of Kathak & Choreography (N.I.K.C.), Specially designed to nurture the creative abilities of students N.I.K.C. has...

VESA INDIAN FINE ARTS was formerly known as pearl art gallery and training school. The place to explore and exploit your inner journey to the world of Traditional art of 16 th...

Kalaripayaltu is one hell of a way to join the Indian dance fitness scheme. This age-old martial arts and classical dance blend from Kerala is the ultimate mixture of dance and...

SAMA is the brain child of Dr. Raghuram, in memory of his mother M.R. Vijayalakshmi. The organization aims to spread & encourage classical music and other arts among small...
Category:
Submit your company info here.