Yellamma Dasappa Hospital
Claim this page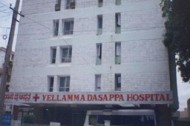 Yellamma Dasappa Hospital provides a wide range of sophisticated Medicare facilities under one roof. The hospital has a built-up area of 11,000 sq.ft. It has a six full-fledged operation theaters equipped to undertake all the surgical procedures. There is also a modern Intensive care setup. The hospital fills the lacunae in medical care that existed in Bangalore. Patients can now seek and get medical expertise from experienced and competent professionals as well as diagnostic facilities under the same roof. We have 24 hour Casualty, Laboratory, Blood bank, X-Ray, C.T.Scan, Pharmacy and Ambulance Service.
Our specialist services include :
General Medicine
General Surgery
Cardiology
Pulmonory Medicine
Nephrology
Urology
Radiology
Obstetrics and gynaecology
Neurology
Gastroenterology
Orthopedics
Physiotherapy
Dermatology
Dental Surgery
Blood Bank
Laboratory
Casualty
Yellamma Dasappa Hospital
' also may find interest in followings . . .

Rajshekar Hospital situated at J.P.Nagar, Bangalore is a multidisciplinary super speciality 50 Bed hospital. Nationally and Internationally reputed specialists, doctors of various...
Chinmaya Mission Hospital (CMH) has earned the reputation of the 'Friendly Neighbourhood Hospital' and located at Indira Nagar, in the cosmopolitan city of Bangalore, India....
Victoria Hospital is a government run hospital affiliated with Bangalore Medical College now renamed Bangalore Medical College and Research Institute. It is the largest hospital...

The most fundamental Principle in Medicine is Love. M S Ramaiah Memorial hospital was built to ensure Love and care for people with pain and suffering. The basic philosophy of the...

Started in the year 1982, Lakeside Hospital is a Multi Specialty Hospital with updated new equipments having well trained and experienced consultants in various specialties and...

Manipal North Side Hospital situated at Malleswaram, Bangalore is a 70 bed hospital renowned for its medical expertise in the areas of General Medicine, Orthopaedics and...
Hospital for Orthopaedics, Sports Medicine, Arthritis, Accident-Trauma, Hosmat Arthritis and Joint Replacement Center (HAJRC), Hosmat Institute of Neurosciences (HINS) and Hosmat...
Category:
Submit your company info here.