Manipal Northside Hospital
Claim this page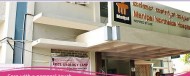 Manipal North Side Hospital situated at Malleswaram, Bangalore is a 70 bed hospital renowned for its medical expertise in the areas of General Medicine, Orthopaedics and Gynaecological services. The secondary care hospital supported by a team of dedicated doctors, nurses and well trained support staff extends quality healthcare at highly affordable costs.
The hospital has in very short time introduced new services that were unheard of in the region, including General surgery, Renal science, Gastroenterology, Surgical Gastroenterology, Paediatric Surgery, Plastic Surgery & Spine Surgery.
The Hospital is a medical center in the Northern Region with a gamut of facilities. With the excellent success rate of the Hospital, more and more people are beginning to avail the multiple benefits of facilities & amenities, close geographical proximity and economical patterns of charges.
Services:
Super Specialty Services:
Aesthetic & Cosmetic Surgeries
Accident & Emergency Critical Care
Bone Marrow Transplants
Bariatric Surgeries (Weight Loss Surgeries)
Comprehensive Cancer Care
Dental Implantology
Eye Surgeries & LASIK
Heart Interventions & Surgeries (Adult & Paediatric)
IVF & Reproductive Medicine
Joint Replacements
Liver Transplants
Minimal Access Surgeries
Neuro Surgeries, Neuro Spine Surgeries and Neurological Care
Ortho Spine Surgeries
Paediatric Surgeries
Manipal Northside Hospital
' also may find interest in followings . . .
… Eye Care U Can Trust Trust Eye Care Hospital was established in June 2012 at Jai Bharath Nagar. The aim of the hospital is to provide affordable eye care to people. It is...
Orthopedic and joint replacement center in the heart of south Bangalore providing the finest in bone and joint care. knee replacements, hip replacements, redo surgeries for failed...
Hospital for Orthopaedics, Sports Medicine, Arthritis, Accident-Trauma, Hosmat Arthritis and Joint Replacement Center (HAJRC), Hosmat Institute of Neurosciences (HINS) and Hosmat...

Started in the year 1982, Lakeside Hospital is a Multi Specialty Hospital with updated new equipments having well trained and experienced consultants in various specialties and...

ABOUT MARVEL HOSPITAL & FERTILITY CENTRE (MFC) - Submitted by the hospital authority Marvel Hospital and Fertility Centre Bangalore, a multi specialty hospital, with a...

Rajshekar Hospital situated at J.P.Nagar, Bangalore is a multidisciplinary super speciality 50 Bed hospital. Nationally and Internationally reputed specialists, doctors of various...
Chinmaya Mission Hospital (CMH) has earned the reputation of the 'Friendly Neighbourhood Hospital' and located at Indira Nagar, in the cosmopolitan city of Bangalore, India....
Category:
Submit your company info here.