Victoria Hospital
Claim this page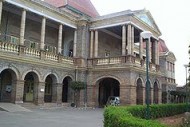 Victoria Hospital is a government run hospital affiliated with Bangalore Medical College now renamed Bangalore Medical College and Research Institute. It is the largest hospital in Bangalore, India.
Health Care Facilities:
Emergency services are available 24 hours including traumatology and emergency surgery in The Mahabodhi Burns and Casualty block with a 24 hour Blood bank. The burns department housed in the same building, is among the best in Karnataka and is managed by the Plastic Surgery department.A centralized laboratory modernized with a grant from Infosys provides 24 hours services.The Outpatient department housed in the Sir Putanna Chetty block has a pharmacy that supplies medicines free to poor patients.The main building houses the administrative offices and wards.The centenary building houses new wards and the nuclear medicine department with gamma camera and modern operation theatres.The radiology department is housed in the B.M Srinivasaiah block.The E.N.T department is located in the Venkateshwara Institute. A dharmashala on the hospital campus provides subsidized accommodation for patient's companions.
Victoria Hospital
' also may find interest in followings . . .

Yellamma Dasappa Hospital provides a wide range of sophisticated Medicare facilities under one roof. The hospital has a built-up area of 11,000 sq.ft. It has a six full-fledged...

The most fundamental Principle in Medicine is Love. M S Ramaiah Memorial hospital was built to ensure Love and care for people with pain and suffering. The basic philosophy of the...
Chinmaya Mission Hospital (CMH) has earned the reputation of the 'Friendly Neighbourhood Hospital' and located at Indira Nagar, in the cosmopolitan city of Bangalore, India....
Hospital for Orthopaedics, Sports Medicine, Arthritis, Accident-Trauma, Hosmat Arthritis and Joint Replacement Center (HAJRC), Hosmat Institute of Neurosciences (HINS) and Hosmat...
Pre-University, is the most important and critical phase in the system of education in India, because it is at this stage that the student has to decide on the specialization to...

Rajshekar Hospital situated at J.P.Nagar, Bangalore is a multidisciplinary super speciality 50 Bed hospital. Nationally and Internationally reputed specialists, doctors of various...
The Department of Industries and Commerce acts as a catalyst for the overall development of the industrial sector through effective discharge of developmental and facilitation...
Category:
Submit your company info here.