Diacon Hospital
Claim this page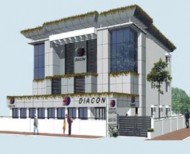 Diacon Hospital was started on April 8th, 1990 as an exclusive Hospital for Diabetes. It was started at a time when there were no exclusive Hospital for Diabetes & even today it continues to be the only Hospital exclusively meant for Diabetes in the state of Karnataka.
Diacon Hospital has always taken the social responsibility as its main priority. We have adopted Slums behind Binny Mills (Locality in Bangalore ) & patients are being seen free of cost for the last 5 to 6 years. We also run Free Type 1 Diabetes clinics on Sundays. Free drugs & Insulin are provided. Regular Public awareness programmes & camps are conducted all over the state.
Hospital has a full-fledged Research Unit with qualified doctors Research Associates. All the equipments needed for conducting clinical trails as per GCP guidelines are available. Multinational Multicentric studies from Phase 1 to Phase 3 Research projects are being conducted in the Hospital for the last 7 to 8 years.
Facilities:
Extensive patient education program from qualified Dieticians & Educators
Has state of art biochemistry & Hormones Lab with Internal & external Quality control programs. Supervised by a qualified Biochemist with a PhD degree
Radiology department with state of art X ray, Ultrasound & Doppler equipment
Cardiology department with Computerized ECG, ECHO and TMT facilities
Optholmology unit with all facilities for Medical Retinal work
Specialized Diabetic foot wear store to make custom made shoe
Pharmacy with specialized Pharmacists to assist patients
Medical records Dept. with Patients CRF from start date of the Hospital
Full fledged Major & Minor OT.
15 In Patient beds which will shortly increase to 25
Hospital run Diet kitchen/cafetaria for both 'In & Out' patient use.
Separate Clinical Research Block to conduct Phase 1 to Phase 3 clinical research
Full fledged Medical Library with Internet Facilities for students. All important books & Journals are available.
Visiting consultants from Nephrology, Neurology, Cardiology, Pulmunalogy, Dermatology, Orthopedics, Paediatrics, ENT, gynecology, and Urology attend Patients as & when it is required.
Rajiv Gandhi Medical university recognized Post Graduate "Certificate Courses in Diabetology" & RSSDI certified Fellowship courses in Diabetology
Diacon Hospital
' also may find interest in followings . . .

Yellamma Dasappa Hospital provides a wide range of sophisticated Medicare facilities under one roof. The hospital has a built-up area of 11,000 sq.ft. It has a six full-fledged...

Jindal Charitable Hospital is run by Jindal Hospital Society at Rajajinagar, Bangalore. On an average 600 out-patients are treated in this hospital daily.A team of 30 dedicated...

Started in the year 1982, Lakeside Hospital is a Multi Specialty Hospital with updated new equipments having well trained and experienced consultants in various specialties and...

The most fundamental Principle in Medicine is Love. M S Ramaiah Memorial hospital was built to ensure Love and care for people with pain and suffering. The basic philosophy of the...
Hospital for Orthopaedics, Sports Medicine, Arthritis, Accident-Trauma, Hosmat Arthritis and Joint Replacement Center (HAJRC), Hosmat Institute of Neurosciences (HINS) and Hosmat...
Victoria Hospital is a government run hospital affiliated with Bangalore Medical College now renamed Bangalore Medical College and Research Institute. It is the largest hospital...

Mahaveer Eye Hospital (MEH) is a state-of-the art- eye hospital committed to provide a comprehensive and hi tech ophthalmic eye care services. MEH story begins in the year 1987...
Category:
Submit your company info here.