Bangalore Children Hospital
Claim this page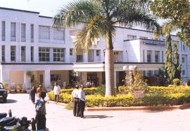 The Bangalore Children's Hospital is a not for profit organization dedicated to improving health and quality of life in children through its various programs in healthcare, education, research and advocacy of child's rights. The hospital also provides a range of rehabilitative and specialty services to infants children and teens with special needs.
As you visit '
Bangalore Children Hospital
' also may find interest in followings . . .

ABOUT MARVEL HOSPITAL & FERTILITY CENTRE (MFC) - Submitted by the hospital authority Marvel Hospital and Fertility Centre Bangalore, a multi specialty hospital, with a...
Music is an intellectual aspect that can drive our brains to forms of intelligence like response of the individual. children have a better response by the influence of music,...

Jindal Charitable Hospital is run by Jindal Hospital Society at Rajajinagar, Bangalore. On an average 600 out-patients are treated in this hospital daily.A team of 30 dedicated...

Mahaveer Eye Hospital (MEH) is a state-of-the art- eye hospital committed to provide a comprehensive and hi tech ophthalmic eye care services. MEH story begins in the year 1987...

Manipal North Side Hospital situated at Malleswaram, Bangalore is a 70 bed hospital renowned for its medical expertise in the areas of General Medicine, Orthopaedics and...
To keep children healthy and help protect them from developing certain diseases later in life, it is recommended that children (and adults, for that matter!) consume at least 5...
Victoria Hospital is a government run hospital affiliated with Bangalore Medical College now renamed Bangalore Medical College and Research Institute. It is the largest hospital...
Category:
Submit your company info here.