Oakwood Premier Prestige Bangalore
Claim this page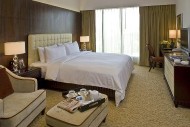 The finest serviced apartment in Bangalore, located in UB City, in the heart of business and commercial district. Oakwood Premier Prestige Bangalore comprising of 177 fully serviced residences in categories of Studio, One bedroom, Two bedroom and Three bedroom units, is strategically located in the heart of UB City that houses eight restaurants, and leading night pub and Luxury Brand stores, that enriches the ambience of high end contemporary Bangalore. Adjacent to Cubbon Park, in the neighborhood of all the major transport links, banks and business centers is 35 kms away from Bangalore International Airport.
Oakwood Premier Prestige Bangalore includes services of 5 Star Deluxe Hospitality from 24 in-room Room Dining , 24 hrs Reception Desk, Valet car parking , Laundry Service, Health Club that includes a Gym powered by Life-fitness latest equipments , Jacuzzi, Steam & Sauna, temperature controlled terrace pool , helipad and Angsana Spa.
Apartment Amenities:
Air Conditioning
High Speed Internet Available and Surcharge Applicable
2 lines/direct line telephone
Flat screen TV
Flat screen TV
Microwave and convection oven
Dishwasher and conventional ovens (in larger apartments)
Fully equipped kitchen
Oakwood Premier Prestige Bangalore
' also may find interest in followings . . .

Mels Serviced Apartments is the latest landmark in Bangalore`s Budget Serviced Apartments / Homestay/ Hotel Apartments. MEL'S Serviced Apartments / Homestay / Hotel Apartments in...

At Apollo Greens, we offer designed serviced apartments with ultra-modern interior with top line amenities with stylishly designed apartment with Luxury linen and latest serviced...

'The senate' is luxurious serviced apartments & residency providing premium services in hospitality situates within the heart of Bangalore city, Senate is best solution for...

Tranzell service apartments in Bangalore are centrally located within walking distance of the Central Business District, Shopping Malls, Restaurants and Entertainment centres....

D'Habitat Service Apartments Koramangala, Bangalore offers Deluxe 1 bedroom serviced apartments and 2 bedroom service apartments. Our elegantly furnished Luxury service apartments...

Brigade Homestead Serviced Residences is a chain of professionally managed serviced residence facility. Over the years, Brigade Homestead has provided visitors with first-class,...

Purchasing a flat in Bangalore is really a dream for most young Indians in these days, as Bangalore is really a fast growing town and also a hub for those people, old and young....
Category:
Submit your company info here.