Apollo Greens Serviced Apartment
Claim this page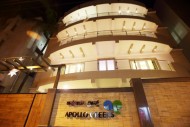 At Apollo Greens, we offer designed serviced apartments with ultra-modern interior with top line amenities with stylishly designed apartment with Luxury linen and latest serviced apartments in Bangalore with all comforts and facilities for ready to access restaurants and bars, with A/c rooms and 24/7 reception and best housekeeping services with car parking Security.
Apollo Greens Serviced Apartments is ideal stay for company executive, business professionals, Families, entrepreneurs which possess facilities like In house coffee shop and restaurant, Indian and Chinese Cuisine both veg and non-veg items available, 24/7 housekeeping services, A/c equipped rooms with water massaging laundry service, mini bars rental car facility & many more.
Apollo Greens Serviced Apartment
' also may find interest in followings . . .

Mels Serviced Apartments is the latest landmark in Bangalore`s Budget Serviced Apartments / Homestay/ Hotel Apartments. MEL'S Serviced Apartments / Homestay / Hotel Apartments in...

Live Inn serviced apartments Bangalore is equipped with facilities to provide a homely experience to all its guests. It offers luxury and deluxe one, two and three bedrooms con...

Alcove offers luxurious & economical service apartments/ hotels in cities of Bangalore, Chennai, Hyderabad, Pune & Coorg, India. We offer a luxurious ambience with world-...

Brigade Homestead Serviced Residences is a chain of professionally managed serviced residence facility. Over the years, Brigade Homestead has provided visitors with first-class,...
City Central Service Apartments offers fully furnished, equipped apartment and executive home which are ready to move into. Serviced apartment is created and designed specifically...

The Premium Serviced Apartments saga began well over a decade ago during the massive growth of Bangalore. The management - frequent travelers themselves – anticipated demand for...

D'Habitat is the exclusive choice for anyone who is an extended stay traveler, relocation expert, travel agent, or anyone seeking monthly, yearly and extended stay fully furnished...
Category:
Submit your company info here.