Brigade Homestead Serviced Residences
Claim this page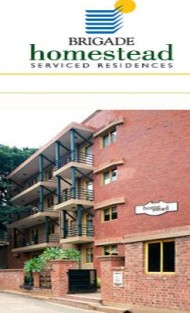 Brigade Homestead Serviced Residences is a chain of professionally managed serviced residence facility. Over the years, Brigade Homestead has provided visitors with first-class, fully furnished, serviced accommodation—a convenient and smart alternative to hotel suites.
Our various Brigade Homestead serviced residences house fully furnished studio, 1- and 2-bedroom residences in several parts of the city. Elegantly furnished with everything from air-conditioned bedrooms to well-equipped kitchenettes, Wi-fi Internet access, a gym, conference area and more, all our serviced residences are professionally maintained with round-the-clock security.
We also offer a range of services that include housekeeping, laundry and in-house pantry service that make everyday living exceedingly comfortable.
Brigade Homestead Serviced Residences
' also may find interest in followings . . .

D'Habitat is the exclusive choice for anyone who is an extended stay traveler, relocation expert, travel agent, or anyone seeking monthly, yearly and extended stay fully furnished...

Mels Serviced Apartments is the latest landmark in Bangalore`s Budget Serviced Apartments / Homestay/ Hotel Apartments. MEL'S Serviced Apartments / Homestay / Hotel Apartments in...

The Premium Serviced Apartments saga began well over a decade ago during the massive growth of Bangalore. The management - frequent travelers themselves – anticipated demand for...

Maple Suites is a graceful modern building elegantly designed boutique suites comprising of single bedroom suites, studio suites, two bedroom suites, three bedroom villa &...

Chalet Hospitality, Hotel and serviced apartments : is in the business of providing and managing Corporate Housing solutions. Chalet prides itself for its customer service...

Alcove offers luxurious & economical service apartments/ hotels in cities of Bangalore, Chennai, Hyderabad, Pune & Coorg, India. We offer a luxurious ambience with world-...

Live Inn serviced apartments Bangalore is equipped with facilities to provide a homely experience to all its guests. It offers luxury and deluxe one, two and three bedrooms con...
Category:
Submit your company info here.