Natya Vidushi Kumari Jaya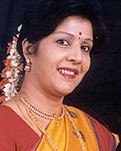 She was born in 1964 in Arehalli. She did her basic schooling in Arehalli itself and thereafter moved to Mangalore in 1978. After completing her education, she shifted to Bangalore in 1985.
Jaya showed interest in dance at a very early age and her earliest memories speak only about organising dance programmes. She herself danced and also directed dance and social dramas. She took active participation in acting despite strong opposition from family and society. She encouraged other children as well to take part in dance and drama and this is what earned the wrath of the community. What is still amazing is the fact that she could manage all this without any formal training. She feels dance is a medium that provides endless opportunities to innovate.
Coming to speak about her career, it can be said that Natya Vidushi Jaya is an indefatigable Bharatnatyam danseuse and Guru who has involved herself in multifarious fields like demonstration, training,
choreography, natuvangam and has also written many thought-povoking articles. She is an artiste who stridently justifies her conviction that Bharatnatyam is the only path for all round development of personality.
Jaya had her training in Bharatnatyam under noted national dance Gurus like Jayalakshmi Alva, Rajrathnam Pillai and Kalanidhi Narayanan. Her training in Kuchipudi was under the tutelage of Vedantham Prahlada Sharma. Jaya, to whom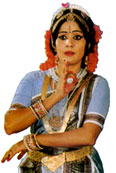 Bharatnatyam is not only a profession but also a hobby, has given many dance performances at various National and International festivals throughout the country and abroad.
She is a post-graduate in dance, history and Hindi and has done a lot of research on 'Adavu Lakshanam' and "Hasthabinaya'. Besides, she has made an intensive study of Vachana Sahithya and Jaina Sahithya and has performed on the stage their salient features through the medium of dance.
Jaya has dedicated her life to dance so much so that her experience is vast, varied and spectacular. Dance should not be confined to mere recreation. It has its own role in edifying the dance fraternity, society, nation and the world. Dance should become a dynamic force an medium in fulfilling this task," says Jaya with lot of emphasis.
She considers dance to be a penance, a conduit for meditation and an effective instrument for having a beatific vision of the Supreme Being's cosmic form.
Jaya has choreographed many dance dramas and few of them like Ishwareeyanjali, Vachanajali, Bahubali Vijaya, Divya Darshana and various other dance features incorporating contemporary features have been telecast. Thus she has not only made a solid contribution to the experimental aspects of Bharatnatyam but also is a popular columnist and writer.
Currently she is learning Karnatic classical music from Sangeetha Vidwan Kotamraju Venkatesh.
Jaya offers the following services to Indian as well as non-Indian dance aspirants:

Training in Bharatnatyam.
For beginners besides inital exercises, all types of adavus in five jaathes and three tempos. Thereafter, she teaches dance items ranging from Alaripu to Thillana and intensive training is given for their Arangetrum.
Training on items like Keerthans, Padavarnam, Padams, Javalis, Astapadis, Devaranamas, Bhajans, Slokas and Thillanas.
Choreography including script-music-dance movements, direction and recording of ballets.
Choreography and teaching of dance items of the dancer's liking, contemporary dance items, fusion dance items.
Students interested in dance are provided with required facilities alongwith teaching during their annual vacation. If they learn continuously for three years annual holidays, arrangement for their Arangetrum is made after the end of the fourth annual holidays.
An overseas Arangetrum/Ranga Pravesha package is available for all students who can learn the course for four consecutive summer vacations at their place of permanent residence. The guru will be available on a 5 year vacational contract basis and the sponsoring student should make all necessary arrangements for the training and Arangetrum during the 5th vacation.
Lecture demonstration, worshops, experiment cum fresher short term course, intensive training in Abhinaya performance techniques, academic guidance for project works, thesis for PG courses, M.Phil and Phd are her forte.
Counseling services for professional Bharatnatyam dancers.
Jaya desires to perform for charitable and fund raising programs.
Contact:
Natya Vidushi Jaya
No.30, Sirur Park, Road, Sheshadripuram,
Bangalore - 560 020.
Karnataka, India.
e-mail: jaya...@yahoo.com