Bangalore Metropolitan Transport Corporation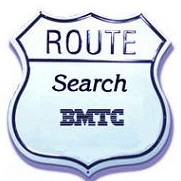 In 1997, BMTC was spun off from the Karnataka State Road Transport Corporation in order to focus exclusively on Bangalore's rapidly expanding transit needs. The Bangalore Transport Service became Bangalore Metropolitan Transport Corporation and the colour scheme was changed from Red to a Blue and White combination.
BMTC remains a division of KSRTC.
Slogan of BMTC: Moving you most economically
Types of Buses:
Blue and White: These buses have been around for ages and the rolling stock is commonly of Tata or Leyland make. Buses of this color scheme that have been introduced after 2001 have pneumatic doors as standard equipment.
White and Blue: The Parisara vahini ordinary buses introduced between 2002 and 2008 with pneumatic doors. The vendors include Eicher Motors, Tata and Leyland.
Blue buses: The new ordinary buses under the JNNURM scheme with low floors and LED boards.
Suvarna: Silver colored with pink lining. The fare on these buses is a Rupee higher for the first three stages in comparison to the ordinary buses, and from then on, the fares are similar. They carry LED route display boards and come with a more stable suspension compared to the previous generation of buses.
Pushpak: Launched in the late 90's as a slightly premium service, these single door bus may run with or without conductors. The Driver may also function as a conductor (janapriya vahini). They are Coffee colored with fares equal to The Suvarna buses.
Vajra: Hi-tech, low-floor, air-conditioned buses from Volvo. They were initially put into service on the IT corridor, but are now running regularly between almost all residential routes as well. The fares are higher, by a factor of about 1.5 to 3 in comparison to the ordinary buses.
Vayu Vajra: Volvo buses to airport operated from 12 routes. They can be identified by the "BIAS" logo on their Route Display Boards.
Atal Sarige: Low-cost buses with single seats along the windows and LED display. They sport the Tri-color outside.
Marcopolo: AC buses from Tata have been introduced on routes not covered by Volvo at present.
Big 10: Connects important neighborhoods and obviates the need to use transit hubs, brilliant green coloring with the Big10 logo.
Big Circle: Runs on the Outer Ring Road(ORR) of Bengaluru. Distinctly colored with "BigCircle" written all over.
BMTC Website : http://www.bmtcinfo.com