Vipassana - to See Things as They Really are
The residents of the Swaminathan home are still in mourning. His parents and brother are still trying to figure out why their son, J.Swaminathan, a 26 year old, brilliant, software engineer jumped to his death. To the rest of the Bangaloreans, he is just a forgotten accident statistic. But for the 85,000 odd software professionals in Bangalore, the high paying, 24 hour - 7day routine has finally claimed its victim. Professional burnout, say some, while others say it is the deadlines, leaving no time for home. Whatever the cause, corporate stress is here to stay and ready to claim its next victim.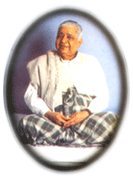 There are many stress-buster therapies, techniques and methods prophesized by various schools that have mushroomed in Bangalore, almost in sync with the 600 odd software companies that have set up shop here. The list is endless. Reiki, Tai-Chi, Silva method, Forum, Pranic healing, Past life workshops, Crystals, dowsing etc. Maybe because it is free and not often advertised, unlike the others, Vipassana Meditation is not popular among Bangalore's stressed out corporate cadres.But, it could be the solution to those professionals living on the edge, burning out fast and looking for a miracle.
Vipassana means to see things as they really are. It is a simple, practical technique that purifies the mind from misery, anger and all negative influences and its deep rooted causes, and transforms the individual into living a life of peace and harmony.
Shri S.N.Goenka
In today's fast paced world, they almost sound as extinct as the Snow Leopard. But, S.N.Goenka, the diminutive, soft spoken chief of Vipassana worldwide, is confident that slowly, but surely peace and harmony will spread through Vipassana, which has already transformed the lives of millions world-wide. With celebrities like ChandraBabu Naidu and Priyanka Gandhi as its regular practitioners, Vipassana is here to stay.
Some of the greatest experiments of Vipassana have been its practice and unprecedented success in many of India's prisons. In a historic session at the Central Jail in Jaipur in 1975, Goenka was allowed to stay in a makeshift room in the prison's dispensery. When the first four hardened prisoners in iron handcuffs and ankle locks were brought to him, he exclaimed . " How can people in chains be put before me? This cannot happen. Remove the chains!." Since that day, Vipassana has spread like a quiet wildfire to prisons in Bihar, Rajasthan, Delhi, Haryana, Gujarat, Maharashtra, Andhara Pradesh and Karnataka.
In the notorious Tihar Jail,(where there is a full fledged centre, thanks to the dynamic Kiran Bedi, the then Inspector General of Prisons, for the first time media personnel were given access to the Maximum Security Zone of the prison. Two Israeli students of Vipassana, Ayelet Menahami and Eilona Ariel filmed a documentary film, Doing time, Doing Vipassana, an eloquent story of the effect of Vipassana on hardcore murderers, rapists and terrorists.
Babu Bhayya, a criminal doing life for killing three people in a span of 5 minutes, attended Vipassana. It transformed him. He pleaded forgiveness from the victims families. And on Raksha Bandhan day in 1992, the wife and the sister of the man he had killed tied the sacred Rakhi on his wrist. Vipassana had made him become accepted as their brother. It is a common sight to witness wardens and criminals with tears flowing from their eyes, hugging each other at the end of Vipassana sessions.
An ancient practice, Vipassana was lost to the world till Gautama Buddha rediscovered it 2500 years ago. The practice of Vipassana meditation was the essence of Buddha's teachings. During Buddha's time and later it spread to the East to Burma, Thailand, Sri Lanka etc. Five hundred years after the Buddha, Vipassana was lost to India again. Then in 1969, Vipassana was back in India again. This time it was an Industrialist S.N.Goenka, a student of Burmese Vipassana teacher Sayaghi U Bha Kin. Goenka had gone to Sayaghi for a cure for migraine. Vipassana cured Goenka of his migraine and transformed him in the process. Since then and today, Goenka has taken Vipassana to over 50 countries where centres have been established.
The Vipassana meditation programme is a 10- day residential course. You will have to remain at the centre with absolutely no contact with the outside world. Light simple meals are provided. The course is absolutely free. The centres are supported by donations from old students which help fund the stay of new ones. In a demanding daily schedule, sitting meditation is the main activity. Almost 10 hours every day. And total silence. You are not allowed to communicate with your colleagues during your entire stay. There are ample breaks in between for food and rest. Each day you will be taken on a review of the previous day and briefed on the meditation technique by Goenkaji, recorded and played on videotape. The training is in 3 steps.
Firstly, they practice abstaining from the five actions that cause harm i.e., killing, stealing, lying, sexual misconduct and use of intoxicants. This practice helps calm the mind and gets them ready for the real task ahead.
Secondly, for the first three and a half days, students are taught to practice Alapana meditation. Here the focus is entirely on observing the breath. Only the breath. This practice helps develop control over the unruly mind.
Thirdly, over the next six and a half days is the practice of Vipassana. Where the students penetrate their entire physical and mental structure with crystal clear insight. On the 10th day, students resume speaking. At the end of the course, one is purer, mentally stronger and totally focussed to step into the real world.
The vital question of most wannabe practitioners was answered aptly by Sri Goenka at the end of his discourse on 'Peace and Harmony' recently in Bangalore, a city he was revisiting after almost 10 years. The question asked to him was,
"Goenkaji, in this fast paced modern life, where does one find ten days time off to practice Vipassana?"
Pat came the reply, with his characteristic smile, When you fall sick, how do you find time to admit yourself in hospital?
Well said Goenkaji.
If only our stressed out professionals would turn to time tested practices like Vipassana, than to 'Instant Nirvana' healing systems that are flooding the market, there would be no more instances of professionals walking off the ledges of skyscrapers, dazed confused.
The Vipassana Bangalore Centre:
Vipassana Meditation and research Centre
#31/1, 'Vijaya' 2nd Main, 5th Block,
Kumarapark (West),
Bangalore : 560 020
Ph: 23360896, 26637173