J.V. Travels Pvt. Ltd.
Claim this page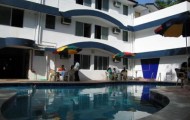 J.V. Travels, One of South India's leading Travel Companies offers a complete gamut of travel related services to customers. For over two decades, JV Travels has integrated each facility to simplify the travel process and is being recognised as One - Stop - Travel Shop.
Our dedicated service and sincere commitment to offer clients the best has ensured us a repeat clientele. A premiere travel organization, JV Travels offers extensive National and International services under one roof.
J.V. Travels Pvt. Ltd.
' also may find interest in followings . . .

Haysans Travel is a proprietory concern with its registered office located at No 75 apoorva complex, Dinnur Main Road, R.t Nagar, Bangalore, 560032 India. Haysans has been...

Since its establishment, JM Mehta Travel and Tour Company, Mumbai based Travel Agent, sister concern of the JM Mehta Group has built a reputation for offering a quality,...
Fourwings International Travels , a Private Limited Company established in 1987 is a leading travel Company which offers Quality Travel Services that includes Leisure Travel,...
Travel Tours Group (TTG) was founded 3 decades ago - a single office location in the business district of Bangalore. Today, the group has a network of 17 offices across 6 cities...
Jagdish Ait Travels (P) Limited was established in Bangalore in 1997. It is a part of the Jagadish Group of Companies, which is owned and managed by its Managing Director, Mr....

Ascon Travels, part of the Dubai based ETA Ascon Group, one of the pre-eminent corporate entities in the Middle East. Since 1995, families and corporates in India and the Middle...
We at Nirva Tours are pleased to introduce ourselves as a leading Tour Organizing Company based in Bangalore. We specialize in the handling of Individual and Group Travels in...
Category:
Submit your company info here.