Magnitude Gallery
Claim this page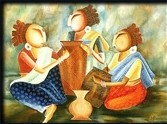 Magnitude Gallery is the pioneer in customized art and is the premier source Tor original masterpieces. Apart from the abstract paintings that enriches most of the galleries; here you can get an original masterpiece created according to your choice. our exhibitions, making us a familiar name among the art connoisseurs of Bangalore's hoi polloi as well as the corporate world.
Offerings Galore
Always ready to innovate, we invariably come up with a blend of the contemporary and the traditional. We also work on a variety of mediums. Besides oil on canvas and acrylic on canvas, we do murals working with copper/ aluminum 3-D cut-outs, and mixed media as well.
Corporate Gifts:
A ground-breaking concept in the world of corporate gifting, Gifts D'Art has infused a new life into the way corporate houses exchange gifts. Art has the tremendous potential of transforming your brand into the classic category. The flagship brand of Magnitude Gallery – Gifts D'Art has triggered this refreshing trend in corporate gifting, which is touching new heights.
Magnitude Gallery
' also may find interest in followings . . .

Corporate promotional gifts are available in a distinct range of styles, colors, patterns and designs that are sure to make any company stand out in the global market. These gifts...

We are a fast growing corporate clothing supplier to customers around the globe, with an in house design team for Corporate clothing and accessories. Rapidly updating our...
Abstract Art Gallery offers a wide range of beautiful paintings and frames- It is also home to line art prints, original paintings, historical images and sculptures & art...

Corporate Film Bangalore is a Corporate films production company based in Bangalore, India, specializes in Corporate Films Production, Corporate Video Production, Ad Film...

With the wedding season and festivities around the corner it is time surround yourselves with fresh pomp, mesmerizing gifts, sumptuous feasts and colourful festive decorations....

Unique arts & Crafts is an art gallery which offers a wide range of comprehensive contemporary and modern art. Our Collection has wide range of Indian & western paintings...
Diva International is a Exporter and Manufacturer of all Kind of handicraft items for promotional gifts, corporate gifts, seasonal gifts which are made of wood and glasses....
Category:
Submit your company info here.