The Bombay Store - (Gifts and Decor)
Claim this page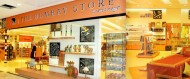 With the wedding season and festivities around the corner it is time surround yourselves with fresh pomp, mesmerizing gifts, sumptuous feasts and colourful festive decorations. The spirit of festivity exudes an aura of austere beauty and grandeur. While it is quintessential to engage yourself in a quick makeover of your home, the festivities also give you opportunities for gifting - with beautiful products to adorn homes and tasteful fashion accessories to mark the occasion. You can surprise your dear ones with some stylish, yet practical gifts from The Bombay Store that can be completely personalized on occasion.
Choose from plethora of options that range from stylish bags, Indian ethnic wear, chocolate boxes, home decor, fusion jewellery, handmade crafts, fashion accessories and wellness products. You can add a touch of class to your home, with beautiful bed and cushion covers in striking colours and embroidered motifs.
The Bombay Store also offers exquisite polka bags, tote bags, and clutches styled with silk, velvet and brocade for sangeet, mehendi and cocktail evenings.
The latest launch, 'Bejeweled', offers handmade ornamented embellishments in vibrant color combinations. The creations are embroidered in smooth texture with intricate designs and notable patterns that charms with touch of royalty. The product range includes bags, clutches, cushion covers, coasters, jewellery cases, jhola bags, notebooks, pouches and mugs. Combining functionality with elegance the range is divided into six designs: Dholamaru, Jewelled, Jharoka Collage, Trip Sarpej, King Sarpej and Fleural Brooch.
The Bombay Store has evolved with the changing customer preferences adhering to the needs of the younger generations. with its mission, "Discover a new India," it showcases a perfect blend of art and tradition with a fashionable touch. With more than 30,000 square feet shopping bliss, it is a one stop destination for plethora of lifestyle products, experimental shopping atmosphere, ambiance and customer service. During the festive season visitors can choose from a vibrant colour palette, rich textures, forms and themes. There will be exciting offers, exclusive loyalty points, gift vouchers and surprise gifts for shoppers during the season.
Locations:
1 MG Mall,
Unit no. 9, 1st floor, Swami Vivekananda Road, Opp to Taj Vivanta, Bengaluru
Phone: +91-80-22086515
G-56, Lower Ground Floor, Phoenix Market City, Whitefield, Bengaluru
Phone: +91-80-67266539
The Bombay Store - (Gifts and Decor)
' also may find interest in followings . . .

Spend Hours discovering India, right here in Bengaluru. And then Spend some more hours appreciating its beauty. The Bombay Store Products: Art facts & Gifts Apparel Fashion...

Judge not a man only by his shoes; but also judge him by his kurta payjamas, his Indo-western suits, his sherwani, pagadi, joothi and all. And what better time and season to see...

Chumbak launched their first standalone store on CMH Road, Indiranagar with their first range of home products including crockery, tableware, lighting, furniture and wall art....

Buy Jute, Connect with nature. Let Jute be your Natural Choice. Experience the art of exquisite craftsmanship through the wide range of jute products showcased at jute Cottage....

Add the International Luxury Touch to your Home Interiors. A luxurious expanse dedicated to meet all the interior needs of a stylish home, Opulence located at HSR layout is a 3...

Home Furnishings and Accessories Fabrics Bed & Table Liner Bags Cushion Covers Curtains Accessories.

Corporate promotional gifts are available in a distinct range of styles, colors, patterns and designs that are sure to make any company stand out in the global market. These gifts...
Category:
Submit your company info here.