Surakshaa homes
Claim this page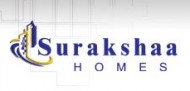 Surakshaa homes has made a concrete presence in the world of lifestyle construction through its innovative offerings of residential complexes and service apartments.
At Surakshaa homes, the focus is always on getting the basics right. We employ only the finest professionals and source only the most impeccable raw materials. The corporate philosophy of "no compromise" in quality is powered beyond the standard norms and that is manifested in the architecture, engineering and construction of every project. Most important, however, is the management's consistent effort to remain in tandem with international standards. This is quite evident in its resolution to follow ISO norms for its projects and service functions.
Strict adherence to the principles of time and quality management is an integral part of the work culture at Surakshaa homes. Customer satisfaction and developing a personal relationship with customers form the foundation of the success of our endeavors.
Surakshaa homes
' also may find interest in followings . . .

Meghana Homes Pvt. Ltd., incorporated four years back to undertake real estate development as its core business activity, today stands on a foundation of enterprising vision and...
Surakshaa Car Care Centre is a Maruti-Suzuki Motor Car Service Centre in Electronic City, Bangalore.

Smart Spaces, one of the housing initiatives promoted by Damden Properties, launches its first initiative of "No Frills Homes" in Bangalore, targeted at young Indians and first...
Hospitals and nursing homes are eligible for financial assistance upto Rs. 240.00 lakhs for corporate bodies and Ts. 120.00 lakhs for proprietary/ partnership concerns/ trusts,...

For ten years, Aranha Homes has been offering Serviced Apartments, Luxury Suites, Guest Rooms and Conferencing Facilities in Bangalore. All properties of Aranha Homes are located...

HM Constructions have shaped the Bangalore's skyline both in terms of residential estates and commercial properties at par to any international city in the world.we are one of the...
1. Surakshaa Car Care Pvt. Ltd. ( Authorised Maruti Suzuki Car Dealers ) 30/3, Hosur Main Road, (Opp. Infosys Pyramid Building) Konappana Agrahara, Electronic City Bangalore - 560...
Category:
Submit your company info here.