Training on R12 Oracle Functional & Technical by Eapps Mantra
Claim this page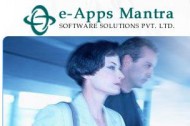 E-Apps Mantra Software Solutions Private Limited established in the year 2007 based out in Bangalore, India. Our vision is to provide a broader solution for the small scale industries (SME). The solution catalogue & our specialization services includes in the area of Financial Management, Supply chain Management, Human Resource Management, Customer Relationship Management, Inventory Management, Logistics and Management Information System. Our focus customers are who are looking for Automation of their business process in an effective way of business maintain respective of quality, time and cost.
e-Apps Mantra specialized in the field of Oracle E-Business Suite 11i / R12 (Oracle Application) and we are proud to be an Oracle GOLD Partner. We assure the Oracle ERP and implementation strategy of e-Apps Mantra can help's the client satisfaction in the way of quality, cost and time factors and helps the clients to move towards to increase their productivity.
Functional Courses:
Oracle R12 Financials (Functional)
Oracle Financial / SCM Implementation R12
P2P & O2C Life Cycle
Oracle 12 Supply Chain Management (SCM, Functional)
Oracle Manufacturing
Oracle Project Accounting R12
Oracle R12 HRMS (Functional)
Technical Courses:
Oracle R12 Apps Technical
11G Core DBA
R12 Apps DBA
Financial Foundation (Techno Functional)
Oracle Developer
Oracle Application Framework (OAF)
Oracle ADF / BPEL / SOA
Oracle SQL and PLSQL
Oracle Developer - Forms and Reports
Java and J2EE
Management Courses:
Six Sigma
Soft Skills
Personality Development
Communication Skills
Listening Skills
ERP knowledge
Six Sigma – Yellow Belt
Time Management
Leadership Skills
Presentation skills
Interview Skills
Group Discussions
Amenities at e-Apps Mantra
1:1 System ratio in every classroom
PPT Presentations on Important Concepts
Experienced Industry Standard Consultants
100% Implementation Training
100% Customer Satisfaction
100% Job Assistance
Library with lots of Oracle Application Books
Operates between 7:00AM till 9:00 PM (14 Hrs a Day)
Real Time Exposure
Fully air-conditioned classrooms
UPS & Generator backup
Regular Batches from Monday to Friday
Weekend Batches (SAT & SUN)
Ample Covered Parking Space for Two wheelers & Cars
Easy access to local means of transport
Training on R12 Oracle Functional & Technical by Eapps Mantra
' also may find interest in followings . . .

Oracle Financial Services Software has a strong global reach with a sales, marketing and support presence in 27 overseas locations operating under four subsidiaries (Oracle...

We are Top Training Institute in Marathahalli, Bangalore. We are in the market from 2008. We Offer the following Professional Courses. 1. SOFTWARE COURSES: C, C++ JAVA, J2EE SAP...

KBACE Technologies, Inc. is a global Oracle Certified Advantage partner which provides services and analytics software dedicated to the Oracle E-Business Suite. KBACE has an...

SYSINNOVA Infotech Pvt. Ltd. is a pioneer in Technical Services on IT Trainings ranging from basic level to advanced and expert level Professional Trainings. Being ORACLE...
Tricon Infotech, one of the most trusted names in Offshore Software Development, provides software development & support services across the globe in different business models...

Decade-long IT Training Presence Excellent track record placements for IT jobs Trainers are working IT professionals in Corporate Courses on - Android oracle Animation Software...

ManageEngine suite offers Enterprise IT Management products covering Network Management, Network Monitoring, Server Management Tools, Application Performance Management, Help Desk...
Category:
Submit your company info here.