Good Wave
Claim this page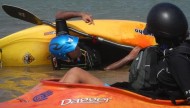 Five kayakers met on the internet and became friends - that's the beginning of the Good Wave story as told by Manik Taneja the man behind Good Wave and an internationally accredited kayaker. "It's a new sport so we try to create awareness by getting people involved and conduction workshops. Getting permission from forest officials, district officials, the flak that adventure sport gets from the hiking and trekking accidents - we had to make it professional and setting up Good Wave Adventures in 2013 was a step in that direction,"
The second step was getting a certificate from the American Canoe Association (ACA) - Manik is one of the only two certified instructors in the country, "Although I had been teaching even before, doing the ACA course was an eye opener for me - to learn rescue methods, to think and behave like an instructor, how to cater to people who are experience learners versus those who are theoretical learners," and now a year and a half into Good Wave his team have trained about 100 people.
"And around 20 of them have their own equipment," he says stressing on one of the hallmarks of taking kayaking seriously - investing in equipment.
In India kayaking gained popularity in Rishikesh with international paddlers would come to run the mountain rivers, but Manik says that the Western Ghats are very unique. "In the north rivers are more gradual making the experience like that of an expedition. In the Western Ghats there are thousands and thousands of rivers which are steep and sharp which international paddlers find challenging."
While manik maintains his day job as a software architect, it is his enthusiasm for the outdoors that drives him. And in the time he has spent teaching he has identified trends in the people who come to him, "There are two kinds of people who come to kayak - those looking for a Facebook picture and those who come to learn. There are injuries and pain to deal with and that turns people away but once they take to it, it becomes an alternative lifestyle."
To deal with an energy that has no harness and a mind of its own can be dicey, so for starters one has to be comfortable with water, learn the technique and be an average swimmer before getting out into the water, "We're dealing with the nature which means river levels that are always changing, rapids, currents that need to be negotiated, what if there's a flash flood? There is adrenaline pumping and amidst all this you define the limits yourself. Tackling a river is a calculated risk - there is dynamism involved which is where experience kicks in - how hard the rapid is to the skill and confidence level. People think it is about power but it is actually about technique, you need to harness the flow of the water and force of the river to take you down and wherever possible go with the main flow." In response to government bans and regulations Manik says he is worried, "We have the wealth of nature, rivers and forests and we need to promote it, allow people the chance to experience this. How to prevent these accidents is to implement safety, charge money if you have to, set up an organization or a union, but banning is not a solution. These are also excellent avenues for locals to make money." A life lesson, Manik says "Is when confronted with a problem instead of focusing on the path that takes you there look at where you want to go - don't focus on the obstacles along the way."
More details and course schedule available of Good Wave website.
Good Wave
' also may find interest in followings . . .

Established in 1994,The Travel People is a company that renders comprehensive services related to air travel within India and abroad. Our strategically located offices equipped...

For those who love the rush of adrenaline in water, the choices are humungous. There's something about rushing water that kicks up the excitement to high gear. Through some pretty...
As many as 100 pet lovers are expected to take part in the first-ever Bangalore Pet Show – 2014 which will be held on Saturday, January 11, 2014, at the Jayamahal Palace Hotel,...
It is a common belief that by increasing the amount of protein we eat and drastically reducing carbohydrates, we can lose weight rapidly. High-protein/high-fat diets do, in...

Here are 10 things to help you get a good night's sleep. Have and stick to a regular bedtime and wake up schedule. Try to go to bed and get up about the same time each night and...

Sparkling Mindz - What an experience! As you step into the Sparking Mindz Experience Center at Kalyan Nagar...you are 'taken aback'! You are right! The 'atmosphere' and 'ambience...

Good Earth, the high-end lifestyle store famous for its traditional yet luxurious products, has storied a bespoke Interior design service - Charbagh, Dedicated to exclusive and...
Category:
Submit your company info here.