Cloud Experts
Claim this page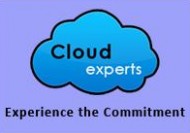 Cloud Experts is a leading Customer Relationship Management (CRM) consulting firm, helps clients to automate sales, marketing and customer support process. We offer cost effective CRM solutions to companies across all business verticals. We are a one stop shop for all your CRM needs. We implement Zoho CRM, Salesforce CRM and Microsoft Dynamics CRM based on our customer requirements. Cloud Experts is founded by a team of dynamic and highly-motivated entrepreneurs who are pioneers in the Cloud Computing space in India.
As you visit '
Cloud Experts
' also may find interest in followings . . .

24/7 customer a predictive interactions and contact center solutions provider. By combining our SaaS platform and the "24/7 Out performance" platform, we help improve sales by 25...

CodeFrux Technologies the Best Mobile Application Development & Training Company based in Bangalore. CodeFrux Technologies is pioneer in transforming Training Models for...

iGATE has a large team of experts in every field encompassing IT Services, Consulting and Process Outsourcing. In addition to strategic consulting, our own internal technology and...

Cosmonet Solutions (P) Ltd. is a leading provider of IT services and products across manufacturing, business intelligence and banking & financial verticals. Our flag-ship...

EMC provides products and services to help people and organizations around the world bring the power of their information to life through the creation of information...

P4P is a one stop shop offering highly integrated HR consulting & outsourcing services. Our goal is to create a better work environment for the organisations of today through...
OutsourceACE in ITES industry currently are at the threshold of synergizing our "business-operations" in the serviced business verticals and are committed to continue our focused...
Category:
Submit your company info here.