The Solitaire hotel
Claim this page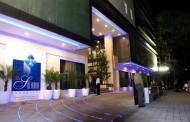 The Solitaire hotel is a premier four star Hotel in Bangalore. with all modern amenities and excellent service. The Solitaire is a full facility 4 star deluxe hotel in Bangalore for the discerning business traveler. Designed and built with no compromise on quality, the uniquely designed 99 rooms & suites, are complemented by gourmet restaurants, a lounge bar, and a coffee shop with an exclusive and exciting menu. The Solitaire is equipped with the state of art facilities to cater your business needs also. We have multifunctional meetings halls and audio/video conferencing facilities. Our consistency in providing world class facilities and service has made us, one of the best four star hotels in India.
Luxury hotel Facilities in Bangalore India
We offer a fully geared Business Center with state of the art facilities, coupled with boardrooms and a multifunctional hall, to cater to meetings, theater style seminars, promotions and exhibitions, sit down dinners and lunches with full audio + video conferencing facilities.
The Solitaire hotel
' also may find interest in followings . . .

Greetings From Solitaire Group! The Group SOLITAIRE HOSPITALITY SERVICE Apartments is a renewed group known for its hospitality services it provides throughout Bangalore. We have...

Ginger Bangalore, the best budget hotel, has 99 self sufficient rooms with all the special features of Smart Basics such as Smart space, Safe zone, Meeting Room, Gymnasium and...

Grand Pavilion is an elegant Business Hotel, positioned for the discerning Corporate Traveler. Situated in the heart of the city and in close proximity to M.G.Road and 40 minutes...

The business hotel that feels like home. Whether you are on a business trip or just on a visit to the city, Adarsh Hamilton Hotel is one of Bangalore's finest destination to stay...

Hotel Rama (Hotel Regaalis) located in the heart of the city of Bangalore. Hotel Rama (Hotel Regaalis) is one of the economy hotels in Bangalore that offer good value for money....
St. Mark's Hotel is a value for money business hotel located in the heart of Bangalore, the Garden city of India. Situated 38 kms from the airport and a stone's throw away, from...

Luxury sky - high at brigade Road, Bangalore. Iris Business Hotel Touchdown to greater heights of comfort Business Center Banquet Hall Private Conference Room Travel Desk Forex...
Category:
Submit your company info here.