Ginger Bangalore (Hotel)
Claim this page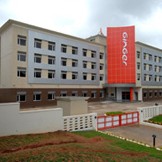 Ginger Bangalore, the best budget hotel, has 99 self sufficient rooms with all the special features of Smart Basics such as Smart space, Safe zone, Meeting Room, Gymnasium and Self check-in kiosk, geared to make stay comfortable and pleasant. At Ginger Hotel in Bangalore all rooms are equipped with amenities such as Mini-fridge, LCD TV, Self-controlled A/c, Tea and Coffee maker and Telephone.
Bangalore is the garden city of India as well as the national IT capital. The Ginger hotel in Bangalore is located, at a distance of about 90-100 minutes from the Bangalore Airport.
Facilities:
All Ginger hotels include facilities and services intelligently designed for your comfort and convenience. These include:
Restaurant
Net Zone
Gymnasium
Safe zone(TM)
Give 'n' take(TM)
Water dispenser
Self check-in
Smart space(TM) rooms
Additional Facilities
In addition, Ginger Bangalore also has the following additional facilities.
Meeting room - Conduct your meetings and presentations at Ginger's capacious meeting room. Our meeting room seats about 8-10 people in board room style seating and is well equipped with Wi-fi connectivity and Audio-visual equipments.
Vision:
Ginger is a fresh and warm experience, of an unsurpassed value.
Mission:
We provide smart, clean and safe hospitality offerings by adopting Gen next-practices that constantly enhance value for our patrons.
Ginger Bangalore (Hotel)
' also may find interest in followings . . .

Hotel Rama (Hotel Regaalis) located in the heart of the city of Bangalore. Hotel Rama (Hotel Regaalis) is one of the economy hotels in Bangalore that offer good value for money....

Nalapad Hotel is a landmark in Bangalore city. It has unique architecture and elegant ambience. The hotel with well furnished rooms is known for is high standards of hospitality....

Ramada is known for its hospitality which is of international level. It has spacious rooms that are cozy and comfortable. The hotel is suitable for any kind of stay. The Ramada...

Hotel V.T.Paradise a three star *** category based hotel is splindedly located in the heart of the city. Hotel V.T.Paradise today occupies a unique niche in the delux hotels with...

Grand Pavilion is an elegant Business Hotel, positioned for the discerning Corporate Traveler. Situated in the heart of the city and in close proximity to M.G.Road and 40 minutes...
If you think eating at one Chinese restaurant means you have experience them all, then do make an exception for Ginger Tiger. The brand is under the JSM corp group, which has the...

The Ramada Bangalore offers a welcome respite to every traveler, no matter budget or needs. We know that relaxation and refreshment are essential to enjoying a city or being ready...
Category:
Submit your company info here.