Indo-American Chamber of Commerce (IACC)
Claim this page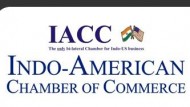 Established in 1968, the Indo-American Chamber of Commerce (IACC) is a non-government, industry led and industry-managed organization, playing a proactive role in Indias development process and serves as a much needed link between the business communities of India and the United States of America. IACC is the only bilateral Chamber of Commerce in India, which is committed to development of Indo-US business and trade relations.
The major objective of IACC is to promote Indo-American business, trade and economic relations. IACC promotes bilateral trade, investment and technology transfer, facilitates business collaborations, joint ventures, marketing tie-ups and strategic alliances through a set of proactive business-oriented initiatives. In particular has established the following objectives :
Facilitate exports of manufactured and agricultural products from India
Facilitate US-based SMEs to do business with India
Promote Environment-related trade between India and US
Facilitate Collaboration between Hollywood & Bollywood
Facilitate US Investments in India's Real Estate sector
Facilitate outsourcing of services from US to India
Indo-American Chamber of Commerce (IACC)
' also may find interest in followings . . .

Founded in 1966, the Indo-Italian Chamber of Commerce and Industry (IICCI) is a non-profit organization recognized by the Italian Government, whose main objective is to promote...
Besides its head office in Mumbai, the Indo-German Chamber of Commerce has branch offices in Delhi, Kolkata, Chennai, Bangalore, Pune and a liaison office in Düsseldorf. In...
Indo American Hospital provides the most modern and highest quality of medical care and treatment in the neurosciences to the people of India,To promote an environment of mutual...

First American (India) Private Limited has been established as a group entity by The First American Corporation. The company has its operations in India in full support of its...
The Department of Industries and Commerce acts as a catalyst for the overall development of the industrial sector through effective discharge of developmental and facilitation...
From a small beginning in 1949, Trade-Wings has grown from strength to strength to become a premier organization in the country, unmatched for its quality of highly personalized...
RuralShores, a pioneer in rural Business Process Outsourcing (BPO) has selected SAP Business ByDesign®, a cloud-based ERP solution, to ramp up its growth plan in India. The...
Category:
Submit your company info here.