Friction Elements
Claim this page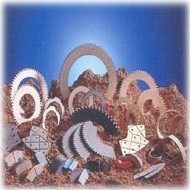 Friction Elements is a member of Dee-Kay Group of companies, which was established in the year 1959. This Company is engaged in manufacturing Friction Materials for industrial Application.
Wherever there is motion, there is an application for one of our products. These Friction Materials are made of organic, inorganic, metallic, non metallic, asbestos and non-asbestos materials.
We manufacture for many applications like engineering, textile, medical, heavy earth-moving, agriculture to name of few.
Friction Elements Available Products:
Earth Moving Damper Assembl
Friction Liners
Steel / Sintered Disc, Pads
Electromagnetic Clutch Plates
Belleville Disc Springs
Steel Clutch Plates
Friction Elements
' also may find interest in followings . . .

Elements Mall has a little something for everybody. Be it apparel, accessories or sports gear. Elements mall houses several brands such as Max, Reliance Digital, Louis Philippe...

Applied Materials mission in India is to grow and sustain Product and Software Development, Information Technology, and Business Process Solutions capability that delivers high-...

Your vacation depends upon the book that tells you where to go; it's called your cheque book. If you think money can't buy you happiness, it can certainly buy you a one of a kind...
Thermal burns, the most common type, are frequently the result of residential fires, automobile accidents, playing with matches, improperly stored gasoline, space heaters,...

Good Earth, the high-end lifestyle store famous for its traditional yet luxurious products, has storied a bespoke Interior design service - Charbagh, Dedicated to exclusive and...

A dynamic enterprise started in 1964, today Hindustan Steel Allied Industries is one of foremost names in the field of industrial fabrication and related areas. The organisation...
Maya Organic Support Services is a Non Profit Company. MO assists artisans and worker co-operatives to develop and market high quality products and services. Maya Organic works...
Category:
Submit your company info here.