Red Earth Resort
Claim this page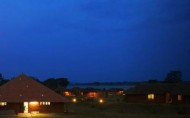 Your vacation depends upon the book that tells you where to go; it's called your cheque book. If you think money can't buy you happiness, it can certainly buy you a one of a kind experience at the End Earth Resort. Set on the backwaters of Kabini dam, the resort is rich in biodiversity and much effort has gone into preserving the ecosystem. The gardens, the verdant landscapes punctuated by glimmering pools and picturesque farmland have set the bar quite high. With bamboo they have constructed walls, grass for roofs and have used minimal cement, steel or stone in the entire project. They take proactive measures towards water conservation - treatment of water using electrolysis and recycling water which is used for drip line irrigation. In order to reduce the bulk of mineral water bottles, Red Earth uses the method of reverse omosis to filter water. Taking their gracious plantation into consideration, the most impressive feature is the ban on the use of pesticides or insecticides in order to keep safe the bird life.
As you visit '
Red Earth Resort
' also may find interest in followings . . .
The basic resources like land, water and energy which are so essential for industries but are scare have to be conserved by adopting appropriate technology. Installation of...
Health experts tell us to drink lots of water but that's not always easy to do. We have lives that keep us busy and often miss out on drinking water. Try putting eight-ounce...
Staying hydrated is a must to ensure endurance, coordination and safety during exercise. Don't wait until you're thirsty to drink. To prevent dehydration, drink plenty of water...

Spend the weekend packed with fun, frolic and family at Clarks Exotica Resort and Spa. Instead of hopping on that plane to fly out of town for a vacation, how would you like to...

Frequent handwashing is a good idea because bacteria are transmitted primarily through direct contact, such as shaking hands with an infected person or touching a surface that the...

Good Earth, the high-end lifestyle store famous for its traditional yet luxurious products, has storied a bespoke Interior design service - Charbagh, Dedicated to exclusive and...
A glass of hot lemon water and honey (with empty stomach) early in the morning is good for health.If you are planning to lose weight then honey should be replaced by one or two...
Category:
Submit your company info here.