Cosmos Mall
Claim this page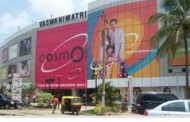 Cosmos Mall, an idea of FUTURE GROUP, has become a prominent shopping hub of Bangalore. The Mall comprises an ideal mix of Lifestyle and value brands. Some major brands present are Pantaloons, Scullers, The Body Shop, EZone, Collection I, Sports Bar Xpress, Talwalkar's Fitness centre & Spa, Food Bazaar, Lilliput and Depot.
Cosmos Mall Products:
Unisex
Men's Apparels
Women's Apparels
Kids Wear
Stationery & Toys
Super Market
Home Furnishing
Wellness
Food & Beverages
Accessories
Footwear
Electronics
Entertainment
Eye Care
Fashion Jewellery
ForEx
Others
Cosmos Mall
' also may find interest in followings . . .
This two-story store shopping mall is situated on the Victoria Road . This is a new shopping mall in Bangalore and has already won the hearts of the citizens. The shops of the...

It is one of the best shopping malls in Bangalore. It is located in Hosur Main Road, Koramangala. This is the largest shopping mall of Bangalore . The international brands like...

This shopping mall in Brigade Road is the ideal destination for perfect entertainment . All the leading stores of a wide variety of brands is available in this shopping mall . It...
Eva Mall by Prestige is the first exclusive women mall to have come up in Bangalore and still the only one. This flower-embossed building, stocks only women's stuff; Shoes,...

The Forum Kannada: is a popular shopping mall located on Hosur Road in Koramangala, Bangalore city in Karnataka, India. The Mall is popular among the youth in Bangalore and an...
Pack in a movie at Fun Cinemas, burgers at McDonalds and lots of shopping at Sigma Mall. The only mall in the area, Sigma Mall is a popular hangout for students from Mount Carmel...

This is one of the major shopping malls in Bangalore . It is situated in the corner of the McGrath and Commissariat Roads in Bangalore .Garuda Mall is the second largest and the...
Category:
Submit your company info here.