Forum Shopping Mall
Claim this page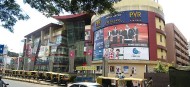 The Forum Kannada: is a popular shopping mall located on Hosur Road in Koramangala, Bangalore city in Karnataka, India.
The Mall is popular among the youth in Bangalore and an attraction to those coming to Bangalore. The shopping mall houses 625,000 sq ft (58,100 m2) of shops over four levels. The mall has everything from shoes to exercise equipment. A major attraction at the mall is the multiplex, PVR, which houses 11 screens and it features the latest Hollywood, Bollywood and Kannada movies. The food court is called The Transit Lounge and is designed like an airport Transit Lounge. One can indulge one's taste buds at Transit, KFC, Pizza Hut or Mc Donald's.
Forum Shopping Mall
' also may find interest in followings . . .

It is one of the best shopping malls in Bangalore. It is located in Hosur Main Road, Koramangala. This is the largest shopping mall of Bangalore . The international brands like...
This two-story store shopping mall is situated on the Victoria Road . This is a new shopping mall in Bangalore and has already won the hearts of the citizens. The shops of the...

Mantri Mall is the second largest mall in Bangalore, with over 250 stores spread out across one million square feet. The mall has a food court sprawled over the top floor and six...

Spread across 680,000 square feet, the Forum Value mall is a one-stop shopping destination that houses factory outlets, supermarkets as well as a cinema. It is a home to brands...
Pack in a movie at Fun Cinemas, burgers at McDonalds and lots of shopping at Sigma Mall. The only mall in the area, Sigma Mall is a popular hangout for students from Mount Carmel...

Garuda Mall, located near Brigade Road, is one of the first few malls developed in Bangalore. It included six floors of shopping and entertainment space, comprising a food court...

This shopping mall in Brigade Road is the ideal destination for perfect entertainment . All the leading stores of a wide variety of brands is available in this shopping mall . It...
Submit your company info here.