Shilton Royale
Claim this page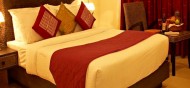 Shilton Royale, the business hotel of the group, has 54 rooms and facilities of a three star hotel which include The Cube - a multi cuisine restaurant, The Jade - a very popular lounge bar and multiple conference rooms and banquet halls.
All Shilton Hotels have facilities and amenities which are a necessity for the value conscious global traveller who doesn't compromise on quality.
Shilton Royale Suites
Wi-Fi & Wired Broadband Connectivity, Individual Work Desk, LCD TV / DVD / Digital Cable, Mini - Bar, Personal Safety Electronic Lockers, Tea / Coffee Maker / Hampers, Fitness Centre / Steam Room / Jacuzzi / Massage Room, Lounge Bar, Multi Cuisine Restaurant, Board Room / Business Centre / Banquet facilities, Fax / Photocopying Facilities / Secretarial Assistance on Request, Money Changing, Travel Assistance / Airport Transfers upon request, Butler & Concierge Service, Valet Parking, Dry Cleaning & Laundry facilities.
With 54 rooms, Shilton Royale offers a choice of two types of accommodation.
Deluxe Suite
Luxury Suite
Each of these tastefully appointed rooms is equipped with all the above facilities.
Apart from all the above features of the Deluxe Room, the Luxury Suite has an additional sitting room, creating an ambiance of space and luxury.
Shilton Royale
' also may find interest in followings . . .

Grand Pavilion is an elegant Business Hotel, positioned for the discerning Corporate Traveler. Situated in the heart of the city and in close proximity to M.G.Road and 40 minutes...

Hotel Nundhini is a centrally located budget hotel in Bangalore, It has all the modern facilities in order to make the stay of guests comfortable. Features & Facilities:...
St. Mark's Hotel is a value for money business hotel located in the heart of Bangalore, the Garden city of India. Situated 38 kms from the airport and a stone's throw away, from...

The Royal Orchid is a high-end luxury hotel. the Royal Orchid has created a respectable place for itself in the industry. All 195 rooms are spacious with a touch of luxury and...
The Capitol is a four star hotel. The Capitol is preferred accommodation of International clients, business travelers and leisure travelers. The Capitol brings with itself a world...
Brunton Aster is Bangalore's first and finest luxury boutique hotel, comprising of only Suites. We provide high quality luxurious accommodation in the heart of the city (on M.G....

Ginger Bangalore, the best budget hotel, has 99 self sufficient rooms with all the special features of Smart Basics such as Smart space, Safe zone, Meeting Room, Gymnasium and...
Category:
Submit your company info here.