Droog House
Claim this page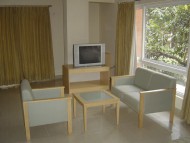 Droog House is located on Nandidurg Road (4 KM from CBD Mahatma Gandhi Road in Bangalore, India) and comprises of 24 spacious elegantly furnished guest rooms and studio apartments.
Our large, peaceful, airy rooms are also eminently practical with upholstered Sofas, Breakfast nook, Spring beds, Writing table, Wardrobes etc.
Every room and suite comes with a Refrigerator, Microwave, Multi channel TV(CNN, BBC, Star, NATGeo, Discovery, HBO, Zee etc), Telephone with domestic and International calling facility, Broadband WiFi and a combination Safe.
Facilities:
Gym :
We have a well-equipped Gym which includes a treadmill, Exercycle, professional work-out unit, hand weights etc.
Garden Cafe :
Comfortable and inviting, our garden cafe amongst lush greenery, serves complementary breakfast to our guests.
Business related Services :
Fax and Broadband internet facilities, basic secretarial services and ticketing and travel related assistance is available.
Conference / Meeting Room :
An air conditioned conference room is available for conferences/ meetings/ parties/ kitty parties for up to 40 persons.
Laundry :
Laundry services are available for our guests.
Parking :
Basement parking is available for our resident guests.
Droog House
' also may find interest in followings . . .

Nalapad Hotel is a landmark in Bangalore city. It has unique architecture and elegant ambience. The hotel with well furnished rooms is known for is high standards of hospitality....

Mels Serviced Apartments is the latest landmark in Bangalore`s Budget Serviced Apartments / Homestay/ Hotel Apartments. MEL'S Serviced Apartments / Homestay / Hotel Apartments in...

Shilton Royale, the business hotel of the group, has 54 rooms and facilities of a three star hotel which include The Cube - a multi cuisine restaurant, The Jade - a very popular...

THE LaLiT luxury hotels & resorts are top line 5 star hotels in India - depicting a class of luxury & 5 star business hotels in India. The hotel with elegant and...

Mapple Express is a 54 rooms briskly buzzing business hotel in the heart of software county, Bangalore. 45 kms from the airport. Mapple is considered as a breath of fresh air in...

Hotel Nundhini is a centrally located budget hotel in Bangalore, It has all the modern facilities in order to make the stay of guests comfortable. Features & Facilities:...

The Royal Orchid is a high-end luxury hotel. the Royal Orchid has created a respectable place for itself in the industry. All 195 rooms are spacious with a touch of luxury and...
Category:
Submit your company info here.