The united sports bar and grill
Claim this page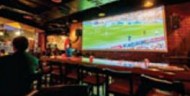 The united sports bar and grill opened its doors as a casual, multi-cuisine diner. Moving beyond the concept of a typical sports bar, the restaurant also includes a community table with a view of giant screens, a pool table and the Stick of Fame wall that carries batting gear of different sports. The place also regularly screens matches for sports fans.
As you visit '
The united sports bar and grill
' also may find interest in followings . . .
Business and Services: Clothes Shop

At Orion Mall is a large and spacious outlet of Chillis Grill, an establishment that goes way back to 1970's Texas in the United States of America. Before it became a big brand...

Elements Mall has a little something for everybody. Be it apparel, accessories or sports gear. Elements mall houses several brands such as Max, Reliance Digital, Louis Philippe...

Big bazaar offers best deals on a wide variety of latest mobile phones, home and kitchen appliances, kitchenware (cookware sets and bakeware) & apparels in India. At Big...
For those who love the rush of adrenaline in water, the choices are humungous. There's something about rushing water that kicks up the excitement to high gear. Through some pretty...

Reebok is an American-inspired, global brand that creates and markets sports and lifestyle products built upon a strong heritage and authenticity in sports, fitness and women's...
Karnataka Table of Distances from Bangalore City Distances from Bangalore (in Kms) Agumbe 357 kms Aihole 510 kms Badami 499 kms Banavasi...
Category:
Submit your company info here.