Bill Forge Pvt. Ltd.
Claim this page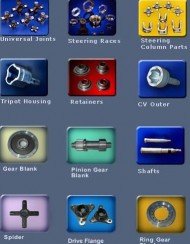 Bill Forge Pvt. Ltd. is a Leading suppliers of Automotive Components, Motor Vehicle Accessories or Components or Spare Parts, Vehicle Accessories.
The expertise at Bill Forge is so strongly established, that our clients elude Japanese collaborated two and four wheeler manufacturers in India as well as North American And European automotive companies. Our products comprise of cold, warm and hot forged components ranging from 6gms to 10kg.
Vision:
A world-class supplier, satisfying customer's shareholders and employees.
Mission:
Continuously innovate and develop products and services to meet the needs of society, helping business partners find cost saving solutions and improvements that enhance growth.
Bill Forge Pvt. Ltd.
' also may find interest in followings . . .
T. FIROZ & CO. is a Leading Automobile Accessories and Automotive Components , Motor Vehicle Accessories or Components or Spare Parts Suppliers.

Intex Tools & Components Pvt. Ltd. is a Leading Manufacturing and Exporting, Gears, Gear Boxes, Automotive Parts, Components & Spares, Reduction Gears, Gear Cutting and...
Automotive Precision Turned Parts available from Aditya Auto Components based in Bangalore. At Aditya Auto, our core competencies lie in the design and manufacture of a wide range...

Methods Automotive is over 20 years in distribution of high performance auto parts and accessories. We are adding car parts / car accessories weekly but currently offer car parts...
Business and Services: Machine Components & Accessories Precision Auto Turned Parts & Components.
Ashwini Tools & Components is a leading manufactures of all kinds of quality press tools, press components, Auto Components, Deep Drawn Components, Sheet Metal, Computer...

Saturn industries pvt ltd is the manufacturer, supplier and exporter of Aerospace components and sheet metal components from Bangalore, India. we export these sheet metal...
Category:
Submit your company info here.