Travels World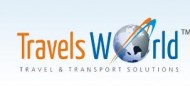 Since quite long, Travels World has remained loyal to its core values. Our commitment to providing first class experiences to our clients has contributed to the growth we have realized over the years. The honesty and integrity of our company and staff is the foundation that contributes to the strong customer loyalty that we value so highly. Members of our corporate team often state that Travels World feels like a close family, as much as it does a professional company. It is our objective to make all of our corporate partners, suppliers, and most importantly, our clients a part of this family.
Our Vision:
Value - To give the client the best value for their money by providing the best travel arrangement.
Identity – Make an impeccable prestigious identity of the firm by delivering high quality of service.
Safety - Redefine business travel with high standards of safety measure.
Innovative – Exploit emerging technologies and adopt new innovative business methodologies.
Outstanding - Be a performer with an outstanding results.
Newness - To infuse new changes with creative solutions & bring a positive reform in the company.
Our Mission:
To leverage our position as the largest integrated travel company with market.
Travels World
' also may find interest in followings . . .
Fourwings International Travels , a Private Limited Company established in 1987 is a leading travel Company which offers Quality Travel Services that includes Leisure Travel,...

Trianz is a client-oriented organization that provides an integrated set of Consulting, IT and BPO solutions, each enabled by innovative and proprietary global execution models....

P4P is a one stop shop offering highly integrated HR consulting & outsourcing services. Our goal is to create a better work environment for the organisations of today through...

VL Machine Vision Systems is a major supplier of machine vision solutions to industry. Their vision systems are used all over the world in automated production processes for...

NCC is a vision seen in exemplary clarity by Dr. AVS Raju, architect, planner and builder close to three decades ago. Years that have seen the Company creating history, time and...
At Vee Technologies, we understand the operational and technological needs of our clients and strategize to focus on providing innovative and configurable technology business...

Sobha developers a Rs. 10 billion plus company is one of the largest and only backward integrated company in the construction arena. Since its inception Sobha's reputation is...
Category:
Submit your company info here.