Shree Raj Travels & Tours Ltd.
Claim this page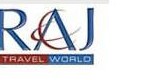 Shree Raj Travels and Tours Limited founded in 1976 by Mr. Lalit Sheth is country's number 1 leisure travel company. Raj Travel World is a brand name of SRTT, and specializes in group tours, FIT, and holidays across the globe. Raj travel World has many firsts to its credit, and has always been an innovator in the travel industry.
Business and Services:
Tour Operators & Ticketing Agents Travel Agents & Tour Operators.
Shree Raj Travels & Tours Ltd.
' also may find interest in followings . . .
Travel Tours Group (TTG) was founded 3 decades ago - a single office location in the business district of Bangalore. Today, the group has a network of 17 offices across 6 cities...
'Shree Balaji Tour and Travels' is a specialized inbound and outbound tourisum and travel agency providing tour and travel services to all sectors of the society . Our philosophy...

Since our inception in 1996, Parshva Tours & Travels has been a professionally managed private company specializing in planning, organizing and executing travel related...

Since its establishment, JM Mehta Travel and Tour Company, Mumbai based Travel Agent, sister concern of the JM Mehta Group has built a reputation for offering a quality,...

The Travel Tours Group continues to remain true to its original vision -- that of making a borderless world where travel is both easy and affordable. Travel Air was the first...
Millennium Tours & Travel Pte Ltd presents itself as a force to reckon with in the field of business and leisure destination travel management services. Under the dynamic...
Chanakya tours and travels Services Tour Operators Bus Travel Agents Train Travel Agents Vehicle Rentals Air Travel Agents Hotel Reservation Agents
Category:
Submit your company info here.