Rohini Travel Corporation
Claim this page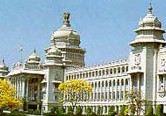 Rohini Travel Corporation is one of the fastest growing Tours & Travel Operating company in Bangalore, India. The Services that we provide in Bangalore are Car & Coach Rentals, Karnataka Tour Packages, Air Ticketing and Hotel Reservations
Rohini Travel Corporation, is the right source for any kind of holiday that you have in mind…be it an adventure, leisure, cultural or historic tour. We give you the best tour packages for your holidays in Karnataka, India. We serve you with everything that you can ask for great tours with well thought-out scheduled packages and adventurous sports or simply the best discount travel holidays.
Our quality tour packages also include adventure sports like trekking, hiking, jungle safari, river rafting and rock climbing. We make it a point to give complete attention to your individual needs and arrange our tours accordingly.
Products & Services
Inbound / Outbound Reservations
Hotel Services
Events and Conferences
Karnataka Package Tours
Infrastructure and Technology
Rohini Travel Corporation
' also may find interest in followings . . .

The Travel Tours Group continues to remain true to its original vision -- that of making a borderless world where travel is both easy and affordable. Travel Air was the first...
Millennium Tours & Travel Pte Ltd presents itself as a force to reckon with in the field of business and leisure destination travel management services. Under the dynamic...

Pooja Tours & Travels is a 11-year-old company that is based in Bangalore. It was started in 1999 with a vision to provide Value for Money Travel Solutions. We are known in...

Since its establishment, JM Mehta Travel and Tour Company, Mumbai based Travel Agent, sister concern of the JM Mehta Group has built a reputation for offering a quality,...
We are one of the Pioneer IATA Accredita Ted Travel Agents for all your Travel needs. Nisarga Tours & Travels ® (NTT).has been serving customer needs since 1999. Originally...
Meghana Holidays specialised to provide you the best travel services including indian tour packages like wildlife safari tours, golden triangle tour, Buddhist pilgrimage tour,...
'Shree Balaji Tour and Travels' is a specialized inbound and outbound tourisum and travel agency providing tour and travel services to all sectors of the society . Our philosophy...
Category:
Submit your company info here.