Jain University School of Engineering & Technology (JUSET)
Claim this page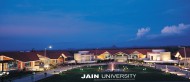 Jain University School of Engineering & Technology (JUSET), Bangalore has emerged out as one of the finest and highly renowned Engineering Institution in Bangalore. JUSET is an integral part of the Jain University's Faculty of Engineering & Technology and offers unique graduate, postgraduate and specialized programs. Thus, JUSET is intently focused to deliver the world class educational experience. The outstanding teaching and research facilities coupled with our practical and forward thinking programs, will let you realize a distinctive & high quality academic experience which is focused on developing your skills and knowledge and thereby allow a smooth transition into the portals of industry.
As you visit '
Jain University School of Engineering & Technology (JUSET)
' also may find interest in followings . . .

Founded by JGI, Jain Heritage School aims for a holistic approach to educate and guide students with curriculum, (CBSE and IGCSE) that ensures comprehensive learning experience....
As a Organisation, our goal is to contribute to society through broad-ranging activities in the areas of Software development, Training and Technical Projects. Modainnovations has...

Sri Sairam college of Engineering formerly known as Sri Shirdi sai engineering college situated in Anekal Bangalore. Sairam was established in the year 1997. Courses Offered: BE...

Altair Engineering India Pvt Ltd is a leading global provider of technology that strengthens client innovation. Altair empowers client innovation and decision-making through...
Caramel High School is a learning community of excellence, allowing students of different language skills to become independent learners and effective communication. The school...

Saab Engineering was established in 1986 with only conventional lathes and second operation capstan lathes. The company grew rapidly and was one of the first industries in the...
Name of the Engineering College Contact Courses Offered A. M. C. College of Engineering (UGET Karnataka *) 18 Km. Bannerghatta Road Bangalore - 560 083 (AICTE...
Category:
Submit your company info here.