Snow City
Claim this page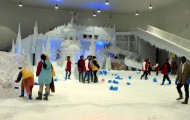 Welcome to the Snow City Bengaluru
One of the biggest indoor snow park and entertainment centre in South India. Snow city is the first attraction which is ready as part of the Phase I initiative. Other attractions will be ready as part of the Phase II by the end of 2012.
All attractions are new concepts, suitable for family entertainment, enticing tourists from all over India to Bangalore. Snow City is aimed to become the flagship project of Karnataka Tourism. It is a must-visit attraction and will regale adults and children alike. It offers an experience of snowy bliss.
Snow City:
A massive indoor snow theme park covering 12500 sq. ft with temperature maintained at subzero degree centigrade. Entire area is filled with snow made out of water and air, which is eco-friendly and edible too.
Snow city offers an experience in snow balling, mountain climbing, sliding, zorbing, basketball, dancing etc. alongside a fantasy snow castle and first of a kind 5D theatre enhancing your experience.
So what will lure you?
Despite the soaring temperatures, the city is a winter wonderland. With a startling wintery setting, enjoy playing in the snow with your loved ones.
Entry Fee:
Rs. 390 on Weekdays (Monday - Friday) Per person above 24" Height
Rs. 490 on Weekends, holdays, festivals (Sat - Sun, Holidays / Festivals)
Children below 24" height are entitled for free admission to Snow City. They require Parent/ guardian supervision to ensure their safety. Guests who have children below 24" height should bring their child's own winter gear as the size suitable to them may not be available.
Jackets, gloves and boots will be provided at free of cost on returnable basis. All apparel/ boot sizes are subject to availability
Appropriate clothing including socks are recommended due to sub zero temperature inside the snow area
Admission fees include usage of Snow Tubes / Rafts
Cameras / Mobiles are not allowed inside the Snow City. However, camera maybe allowed for a fee of Rs. 100
Not valid with other discounts and promotions
Lockers will be broke-open in case the safety lock key is not returned by 21:00 hrs. on the date of rental.
The park is open from 10.30 am to 9.30 pm on all days. Every day, nine sessions of 45 minutes each will be conducted.
Snow City
' also may find interest in followings . . .

Your go-to place for masks, return gifts and snow spray! They have branches all over the city, so you should find it easy to give them a call.

Living at Mahidhara Fortune City is a compliment to elegant engineering. For the connoisseurs of fine living who wish to take the right size of living space, Fortune City...

Stic Travel is India`s leading wholesale Travel Agent & Tour Operator,Recognised By Dept.Of Tourism(Govt.Of India),Serving Tourism For 38 Years. We Offer A Wide Range Of...

Bangalore, March 29, 2012: It is yet another opportunity for the car lovers, especially in and around Electronic city and even beyond, who wish to buy Maruthi Suzuki cars....

Blessed with abundant natural wealth and a salubrious climate, Karnataka is an ideal location for sprawling golfing getaways. In fact, the state has a long golfing history: the...

Garden City Hospital began as the vision of six local physicians in March of 1947. Committed to a high level of healthcare, the physicians pooled their own money and rented a...
City Central Service Apartments offers fully furnished, equipped apartment and executive home which are ready to move into. Serviced apartment is created and designed specifically...
Category:
Submit your company info here.