B N R Group
Claim this page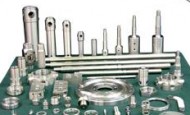 BNR Group is one of the leading manufacturer of Precision Turned & Screw Machined Components. BNR Group always envisages innovation as the key for the growth and is constantly developing a variety of new products, grades, processes, applications and achieving new limits in quality to meet the customer needs and to stay ahead of the competition.
Having in-depth knowledge of advanced manufacturing systems and technology, We are highly experienced and specialized company having proven performance in major industries like Automobile, Aerospace, Industrial Values, Pumps, Earth Moving Equipment, Electrical, Power Tool, Machine Tools, Defence, Medical & Metal Forming etc. in the field of manufacturing and supplying high Precision and Customized Products.
Services:
Customers come to BNR for solutions. They know we have the knowledge, experience and a full line of in-house capabilities to ensure their success and quality when manufacturing precision value-added components.
To satisfy each of your unique manufacturing requirements, BNR offers an array of in-house processing capabilities to ensure that your parts will be produced consistently every time.
Machining:

Precision Turning
Precision Milling
Conventional Turning and Milling
Machined Ferrous and Non-Ferrous Casting
Thread Cutting
Deep Hole Drilling
Cylindrical Centralized and Surface Grinding
Gear Cutting
Spline Cutting

Surface Treatment:

Electroplating
Black oxide
Induction Hardening
Case Hardening
Carbo-Nitriding
Gas Nitriding
Annealing and Normalising
Sand Blasting
Impregnation
B N R Group
' also may find interest in followings . . .
Hari Prakash Precision Tools & Components Pvt Ltd Agricultural Equipments Agriculture, Farm Machines & Tools Suppliers
Spear Precision Engineers is a Manufacturers Of Two Wheeler Turned Components.

Intex Tools & Components Pvt. Ltd. is a Leading Manufacturing and Exporting, Gears, Gear Boxes, Automotive Parts, Components & Spares, Reduction Gears, Gear Cutting and...

Saab Engineering was established in 1986 with only conventional lathes and second operation capstan lathes. The company grew rapidly and was one of the first industries in the...

QuEST Global is a leading provider of diversified engineering services and manufacturing. The company helps customers in the aerospace, consumer electronics, healthcare,...

Saturn industries pvt ltd is the manufacturer, supplier and exporter of Aerospace components and sheet metal components from Bangalore, India. we export these sheet metal...
Automotive Precision Turned Parts available from Aditya Auto Components based in Bangalore. At Aditya Auto, our core competencies lie in the design and manufacture of a wide range...
Category:
Submit your company info here.