J. Sagar Associates ("JSA")
Claim this page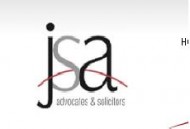 J. Sagar Associates ("JSA") is a leading national law firm in India comprising over 200 lawyers and consultants including more than 40 partners based in New Delhi, Gurgaon, Mumbai, Bangalore and Hyderabad. For almost two decades we have provided legal advice and services to international and domestic clients.
Our mission is to provide outstanding legal solutions in our chosen practice areas with a strong emphasis on ethics. Our clients benefit from our expertise and experience as a large firm while still enjoying the privilege of personal attention and responsiveness of a small firm.
Our advice is delivered by well informed, accessible, partner-led teams who strive to provide the highest quality of service to our clients, by listening, understanding their needs, responding promptly and living up to the commitments that we make. We use plain English to communicate verbally and in our documentation.
JSA's practice extends across diverse sectors of industry and services such as Consumer & Industrial Products, Consumer Durables, Financial Services & Banking and Energy & Transportation. We understand and appreciate the different challenges that our clients face in the current business environment as a result of technological change, evolving government regulation and competitive pressures in the marketplace. We provide a diverse set of legal services to our clients and assist them to meet these challenges successfully.
Our sectors include Energy (Power, Oil & Gas); Mining; Hospitality & Leisure; Education; Asset Management & Financial Institutions; Transportation (Aviation, Railways & Metro, Surface Transport and Ports); Real Estate; Knowledge Based Industries (IT / ITES / Life Sciences); Media, Entertainment & Sports; Communications (Telecom & Broadcasting); Municipal & Developmental Infrastructure; Retail & Franchising; Construction & Engineering; Insurance; Defence & Internal Security; Manufacturing, Consumer Products, Industrial Products & Durables; Services; Non-Government Sector; and Agriculture & Plantations.
J. Sagar Associates Other Locations:
Gurgaon
Sandstone Crest,
Opp. Park Plaza Hotel,
Sushant Lok - 1, Gurgaon 122 009, India
Tel: +91 124 4390 600 I F: +91 124 4390 617
Email: gurg...@jsalaw.com
New Delhi
27, Community Centre,
East of Kailash, New Delhi 110 065 India
Tel: +91 11 4311 0600 I F: +91 11 4311 0617
Email: newd...@jsalaw.com
Mumbai
Vakils House, 18 Sprott Road,
Ballard Estate, Mumbai 400 001, India
Tel: +91 22 4341 8600 I F: +91 22 4341 8617
Email: mum...@jsalaw.com
Hyderabad
Plot No.106, Road No.1,
Jubilee Hills, Hyderabad 500 033, India
Tel: +91 40 4036 0600 I F: +91 40 4036 0617
Email: hyde...@jsalaw.com
J. Sagar Associates ("JSA")
' also may find interest in followings . . .

Dua Associates is a prominent national law firm with full-fledged offices across eight metropolitan cities in India. For almost a quarter century the significant experience of its...
Legaleye Associates is a full service law firm in India, with its offices in Mumbai, Pune and Delhi and network offices in all other major cities of India. The firm is best known...

Singhania & Partners is a full-service national law firm in India, with its offices at New Delhi, Noida, Bangalore, Hyderabad and Mumbai. We support our clients in all spheres...

Nishith Desai Associates (NDA) is a research based international law firm with offices in Mumbai, Bangalore, Silicon Valley, Singapore, Basel and New Delhi. The firm specializes...

ALMT Legal is a dynamic and progressive full service Indian law firm providing Indian expertise with an international capability. With over 95 lawyers and partners across offices...

Majmudar & Co., a leading Indian law firm, with offices in Bandra Kurla Complex and Flora Fountain, Mumbai (Bombay) and Bangalore, was established in 1943. Apart from its own...

Narasappa, Doraswamy & Raja is one of India´s best law firms. The Firm was founded with the aim of bringing an international quality approach to legal practice in India. We...
Category:
Submit your company info here.